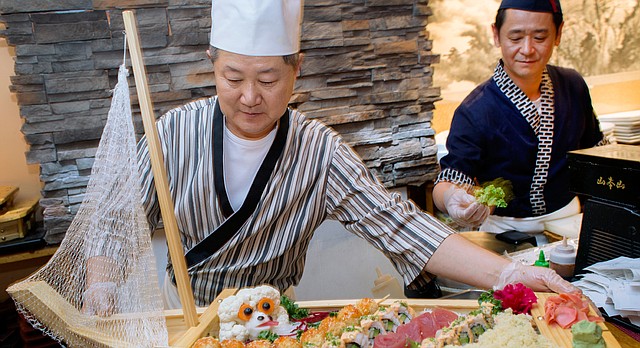 Sunday, September 13, 2015
Start loosening those belt buckles, foodies.
Downtown Lawrence Restaurant Week, formerly known as simply Lawrence Restaurant Week, is back.
Nineteen eateries are participating in this year's event, which kicks off today and runs through Saturday.
As with 2014's inaugural Restaurant Week, many of the locations are offering a prix-fixe menu, which entails a multicourse meal for a set price. Some are serving up permanent menu items in a packaged deal, while others have created wholly original dishes for the week.
Participating restaurants
Here are the 19 eateries participating in this year's Downtown Lawrence Restaurant Week. For more information, including each restaurant's menu for the week, visit www.lawrencerestaurantweek.com.
715
The Burger Stand
Drasko's
Free State Brewing Co.
Fuzzy's Taco Shop
Genovese
Global Café
Ingredient
Limestone Pizza + Kitchen + Bar
The Mad Greek
Merchants Pub and Plate
The Purple Carrot
Ramen Bowls
The Roost
Ted's Taphouse
Terrebonne Café
Ten and the Jayhawker bar (at The Eldridge Hotel)
Wa Japanese Restaurant
"It's a great lineup," says Sally Zogry, director of Downtown Lawrence Inc., which oversees the event. "We've got a lot of different options for different budgets and different tastes, from the people who consider themselves foodies to people who don't."
Zogry spent several years in the restaurant business before taking on her current role with Downtown Lawrence Inc.

She says organizers have increased marketing efforts this year, including reaching out to communities across northeast Kansas.
"We know there are people who will come from Kansas City, Topeka, Ottawa — a good 50-mile radius to be here," Zogry says. "Lawrence is really becoming a regional food destination."
She had hoped to expand the roster of restaurants — for some 2014 participants, such as Pachamamas, which closed earlier this year, and Ladybird Diner, which only recently reopened after a March fire, the timing wasn't ideal — but remains excited for this year's event, which includes quite a few first-time participants.
One is Wa Japanese Restaurant, where customers can dine on a $30 three-course meal with their choice of appetizer, a sushi main course and dessert, plus a choice of house red or white wine, house sake or domestic beer.
All dishes, including Wa's popular seaweed salad and Kansas roll (which comes on fire), are mainstays on the regular menu, which features more than 80 different sushi rolls.
"We're trying to provide a chance for more customers to try our specialty rolls and give them a chance to learn more about sushi," says Wa chef-manager Jay Chi.
Downtown Lawrence Restaurant Week banners and fliers have dotted Massachusetts Streets businesses for a few weeks now, and during the event, participating restaurants will also have special-edition glassware and coasters on hand.
ACME is also selling Downtown Lawrence Restaurant Week T-shirts, with a portion of the proceeds going to Downtown Lawrence Inc.
In another departure from last year's event, the second annual Restaurant Week will feature two food trucks, Drasko's and The Purple Carrot, which Zogry says will hang out at the Granada, 1020 Massachusetts St., at different times throughout the week.
Drasko's owner Jay Draskovich says he'll likely be open this week from 4 p.m. to 10 p.m. Wednesday through Saturday, but promises to keep followers updated on social media.
The longtime 715 cook, who opened Drasko's earler this year, is mostly sticking to his truck's permanent menu items — "The chicken puffy tacos I can't take off," he jokingly says. "People would shoot me."
Draskovich is, however, adding one new dish to his Restaurant Week offerings. This week, he's doctoring up his popular macaroni and cheese with a little garlic, shallot, thyme and — wait for it — crawfish.
"I was just thinking, 'What's something different?' Lobster's too expensive and I want to keep the price point low," Draskovich says of the $6 dish, which he says will pack a bit more heft than his regular mac and cheese. "Crawfish is delicious and kind of like a poor man's lobster."
The result?
"I thought it would be fun," he says. "And it tastes amazing."