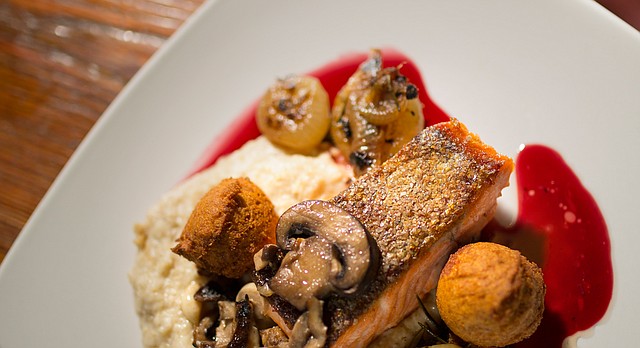 Wednesday, September 16, 2015
If you haven't stopped by any of the 19 eateries participating in this year's Downtown Lawrence Restaurant Week, don't worry — there's still time. The second annual event runs through Saturday.
While some restaurants on the roster are serving up some of their best-loved permanent menu items in packaged prix fixe deals, we thought we'd highlight a few inventive, exotic and wacky dishes devised by local chefs and restaurateurs in honor of the event.
Hungry for more? Check out a full list of participating restaurants and their menus at lawrencerestaurantweek.com.
---
Yucatan-style pork at Merchants Pub and Plate
Cost: Merchants' prix-fixe meals are $35 for dinner and $17 for lunch.
Owner-chef T.K. Peterson "wanted to let our creativity fly" with Merchants' four-course menu, which includes everything from an Asian-inspired pork belly steamed bun to a pan-roasted ocean trout with parsnip porridge, charred cipollini onions, local mushrooms, elderberry glaze and a sorghum hushpuppy.
Among the menu's showstoppers: Peterson's Yucatan-style pork, served up "build-your-own" style with garlic masa flatbread, local pinto bean salad, chimichurri, chicharrones and tropical hot sauce.
"It's not the traditional Midwest pub food that we're used to doing, but I think it shows our versatility, which is really fun," Peterson says.
---
Waffle Hot Dogs at The Burger Stand
Cost: $7 for two
Owner-chef Simon Bates concocted the idea for this sophisticated take on a corn dog during a recent visit to San Francisco, says Burger Stand general manager Beau Bruns.
"He stumbled upon it and was totally blown away by it," Bruns says of the hot dog on a stick, which Burger Stand cooks are dipping in house-made waffle batter instead of the traditional cornmeal-based batter. "Rather than serving it with margarine and syrup, he wanted to show that you can do some pretty easy things to make food interesting and fun."
That includes a pat of pumpkin butter (sourced from local produce) and a chicory-coffee gastrique, which lends a vinegar-y tartness to the dish. Bruns recommends pairing yours with Boulevard Brewing Co.'s recently released Funky Pumpkin spiced sour ale, also available at the Burger Stand this week.
---
Buttered corn and cold noodles at Ramen Bowls
Cost: $19 as part of Ramen Bowls' three-course, prix-fixe menu, $12.50 a la carte
For some restaurateurs, such as Ramen Bowls co-owner Shantel Grace, Restaurant Week offers a chance to experiment with new dishes before adding them to the menu permanently.
Unlike traditional ramen, Grace's tsukemen noodles are served cold, meant to be eaten after dipping in a separate bowl of miso broth. She's hoping to launch a revised version of her Restaurant Week dish next summer, but with a refreshing iced broth.
"The idea is that the miso noodle will soak up the broth, yet you really get the flavor of the noodle as you slurp it," Grace says of the dish, which also comes with a choice of teriyaki chicken or teriyaki tofu.
---
Goat cheese croquettes at Ingredient
Cost: $9 for a small plate
Ask Ingredient owner-chef Nick Wysong about the inspiration behind his restaurant's elegant Restaurant Week menu, and he'll tell you.
"I just like to eat," says Wysong, whose roster of small plates includes sweet-potato bisque, a Maine lobster roll and the delicate, lavender-garnished goat cheese croquettes.
At Ingredient, each bite-sized piece of creamy goat cheese is rolled in flour and panko, coated in egg wash and fried until softly crisp. It's served with a drizzling of lavender and local wildflower honey.
"It's straight from the hive, so it retains all the natural enzymes," Wysong says. "It's got an earthier taste."