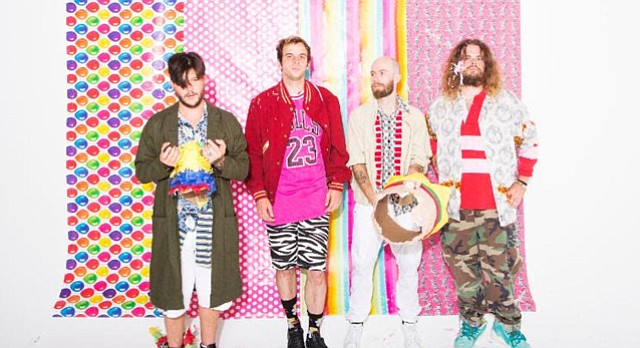 Thursday, September 17, 2015
When Wavves hits the stage with their crashing guitars and throbbing garage rock sound, fans tend to go a little nuts. Just last month at Maha Music Festival in Omaha, fans got worked into such a frenzy that mosh pits instantly formed, and frontman Nathan Williams ended up wrecking his amp by the end of the set.
Bassist Stephen Pope knows that when the San Diego band heads to the Midwest, fans roll harder.
"I was surprised by the Maha Fest turnout. It was still light outside. If you're playing early, you're always questioning if people are going to be here or if people are drunk enough to enjoy us," Pope says. "Fans just appreciate bands coming to their cities more. If you live in a major city on the coast, you're always going to have a band come through several times a year. Whereas in Omaha or Lawrence, a band might wait five years before coming back."
Pope also noted that rock fans in the Midwest "don't try to act as cool."
Beating the boredom
When Wavves comes to the Granada on Sept. 20, you can bet fans in Lawrence will be worked up. The garage rockers from California will come prepared, armed with loads of material they've been eager to play live. Wavves released not one, but two albums this year: a joint album with Cloud Nothings over the summer, and a fifth studio album, "V," set to come out in October. The reason for two albums this year? They got bored.
"We were supposed to start recording for the album that's about to come out in early 2014, and that didn't happen," he says. "We had this album written almost two years ago, and we were kind of constantly getting together and writing more songs, so we had time to do another album."
Cloud Nothings isn't the only band they've collaborated with. Wavves have joined forces with rockers Damian Abraham and Jorma Vik, but they also found themselves with musicians outside of their genre.
If you go
Wavves, with supporting bands twin Peaks and SWMRS, will be performing at 8 p.m. Sept. 20 at the Granada, 1020 Massachusetts St. Doors open at 7 p.m. Tickets cost $18 in advance and are available for purchase at the Granada box office and thegranada.com.
"We recorded a song with Jenny Lewis, who's extremely different from Williams," Pope says. "It ended up being awesome. We had way more in common with her."
Avoiding personality conflicts is key with Wavves. They've changed out a handful of members before finding what worked. Pope had previously known Williams prior to joining the band, and guitarist Alex Gates was a childhood friend.
"We were friends first and bandmates second. We'd still hang out together if we weren't making music together," Pope confides. "We don't practice a ton. We take it seriously, but not too seriously. If we get tired and want to take a week off from practicing, it's no big deal. We're all friends."
Growing good music
You can tell the current lineup works, because over the years Wavves' music sound began to develop into a cleaner product. This works in the band's favor as audiences nationwide are favoring more of that guitar rock sound.
"There's been a long pause of no music with guitars, other than Foo Fighters, on the radio for such a long time that maybe people are coming around to wanting guitars again," says Pope, who has high hopes for garage rock and punk scenes even on a local level. "I think it's probably going to grow. There's lots more punk bands happening now. You see a lot nationwide, but because we're based in California, there's that whole Burger Records scene that's blowing up now and taking over the West Coast, and that's very based in garage and punk."
Pope knows guitar rock has stayed a little under the radar in recent years, but anticipates a comeback.
"I see a lot more kids getting into it now. I'm not one of those purists, I don't care if music is made on a computer or not. If it's good music, it's good music," he says. "But I have a special place in my heart for music that's made with guitars, and I think it's coming back."
— Fally Afani is a freelance writer and editor of iheartlocalmusic.com.
More like this story on Lawrence.com