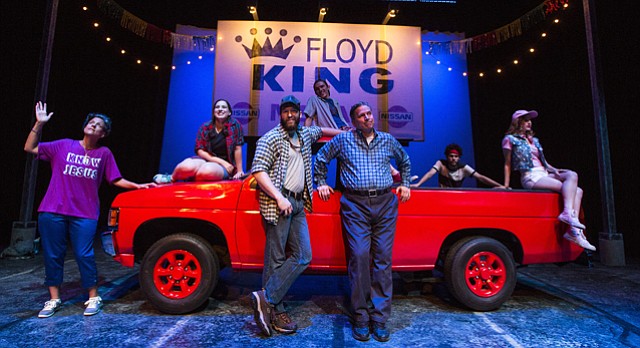 Thursday, September 17, 2015
The title of Theatre Lawrence's newest production "Hands on a Hardbody" might sound a tad risqué, James Diemer admits, though the show, which opens Friday at 7:30 p.m., is actually anything but.
Based on a 1997 documentary of the same name, "Hands on a Hardbody" tells the true story of a Longview, Texas, endurance competition in which contestants vied to keep their hands on a Nissan pickup truck without squatting or leaning.
Whoever could stand touching it the longest would win the truck.
But Diemer, Theatre Lawrence's technical director, says the musical — and the "hardbody" truck at the center of it all — is much more than its simple premise.
"People are a little jumpy about the title. It went over fine in New York City, but this is Kansas," Diemer says good-naturedly, nixing any rumors of "naked people on stage" in Theatre Lawrence's production. "It's about the lives of regular Americans. It's a musical about meeting these people, learning what their diverse lives are like, and cheering for all of them."
Each of the play's 10 contestants has their own motive for entering the competition, which in real life lasted 77 continuous hours before crowning the victor.
An Iraq War veteran trying to build a better life for his family, a frazzled mother of six and a Mexican-American whose citizenship unjustly comes into question during the contest are just a few of the musical's everyman characters vying for their own piece of the American Dream, says Terrance McKerrs, the show's director.
If you go
What: "Hands on a Hardbody"
Where: Theatre Lawrence, 4660 Bauer Farm Drive
When: Sept. 18 through Oct. 4. Sunday performances are at 2:30 p.m. All others begin at 7:30 p.m.
Cost: Tickets are $24.99 for evening performances and $23.99 for matinee performances. They can be purchased at www.theatrelawrence.com or by calling 843-7469.
He says the truck itself has become "the 16th character" in "Hands on a Hardbody." Originally crafted for a Kansas City production of the show, the 1990s-era Nissan pickup is actually reconstructed from the salvaged bodies of three different trucks, says Diemer, who also overhauled the truck's electrical components.
Both the taillights and headlights function, as well as the horn, which beeps at points throughout the performance.
"From a set-design standpoint, the truck is primarily the set," Diemer says. "They climb on it, they walk on it — every character is practically glued to it during the show."
What keeps them glued to it, even for days on end under the scorching Texas sun, is hope.
Really, Diemer says, "we're all on the truck all the time." People, universally, are always chasing after the dream of a better life. When those dreams aren't realized, we're left no choice but to pick up the pieces and move on.
And that's OK, Diemer says.
"It's the experience of hope that's important, not so much the truck that matters," he says. "By the end of the show, they realize life continues. Life goes on, but we're stuck here with these people and the most we can do is be good to each other."
The characters may vary in age, ethnicity and religious background, but they're all victims of an economic downturn in a town that has seen better days. Even the car dealership hosting the contest is struggling, having resorted to wacky giveaway contests to boost sales.
J.D. Drew, a middle-aged "good-old boy" played by Bruce Douglas, is perhaps the most resistant to the changing mores of his beloved Longview.
As the competition advances, each contestant shares their story through musical solos, encompassing every genre from country and gospel to blues and rock.
In "Used to Be," Drew laments the Wendy's, Applebee's and Walmarts that populate the neighboring parking lot where mom-and-pop businesses once thrived.
"We're dealing with a time that is not personal," says McKerrs, referring to the big-box stores and cookie-cutter strip malls that seem to dominate Heartland communities like Longview these days. "But this play is all about people — real people."
Still wounded — emotionally and physically — after a fall from an oil rig that cost him his job and pension, Drew suffers through sleep deprivation and strained joints in order to win the titular "hardbody," which he believes will redeem his perceived failure as a man and provider.
Drew's wife, witnessing the possibly permanent damage the contest inflicts on his already-fragile body, doubts the whole thing is worth it. But Drew persists.
"It's about people holding onto their dreams — holding onto their dreams and not letting go, and knowing when to let go when it's time," he says. "That truck represents the American Dream to these people. It's their heart, their joy, their pain."
Whether Drew heeds his wife's concerns over the contest or risks crippling himself in the process, McKerrs won't reveal.
Still, the director concedes, "Sometimes holding onto someone you love is more important than holding onto a truck."