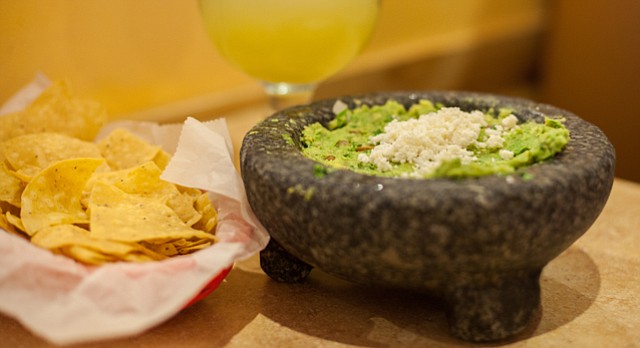 Sunday, September 20, 2015
Back in the heady pre-financial-crisis days of the early aughts, I used to dine out a lot in Kansas City. And for me there were only two kinds of restaurants: Mexican food and everything else.
For anyone who hasn't yet explored the Mexican restaurants of Kansas City, I've assembled what I call the ultimate piecemeal Mexican feast — taking one or two items from 11 different establishments. There are plenty more we didn't have space for, of course, so feel free to send in your own nominations.
To start off, a nice serving of chips and salsa at the Port Fonda in Westport (4141 Westport Road, portfonda.com), with a small copa of del Maguey Crema de Mezcal as an apertif. The chips and salsa here aren't free, but the chips are extra crunchy and come with two housemade salsas featuring both raw and roasted tomatilla.
While tomato salsa is an essential lifeblood for any Mexican food enthusiast, nothing beats a good guacamole, and you'd be hard-pressed to find a goopier, groovier guac than that at Sabor y Sol, (542 Southwest Blvd., formerly Sol Azteca), where each serving is made fresh upon order and served in a stone bowl.
When it comes to tacos, there are few I enjoy more than the chorizo and el pastor tacos down at Rico's Tacos Lupe (802 Southwest Blvd.), where they are $1.50 each except on Tuesdays, when they are only $1.
Rico's tacos are so good there is an entire binder full of laminated photos of people who ate 10 or more in one setting — one of the rare clubs in this town that I can actually afford to join.
When it comes to fresh tamales and tortillas, two destinations on Kansas Avenue in Kansas City, Kan., are famous for these products.
Ninfa's Tortillas and Taqueria (964 Kansas Ave.) does a brisk business in tamales, while Tortilleria San Antonio (830 Kansas Ave.) is a personal favorite for tortillas, tacos and homemade tamales by the dozen. Also a good place to stock up on pinatas, dulce de leche, Jarritos sodas and sugary empanadas.  
If you'd rather fill your plate with restaurant-style tamales covered in cheese and enchilada sauce, I recommend any of the Mi Ranchito (miranchitoKC.com) in Johnson County. The tamale dishes are served with a spot of sweet masa cake, and the Acapulco shrimp tacos are excellent as well.
What about Mexican food for the vegetarian connoisseur? Los Tules (1656 Broadway St., los-tuleskc.com), features a delicious veggie menu including spinach and cheese enchiladas topped with white cheese sauce and fajitas with grilled zucchini, peppers, onion and mushroom.
Los Tules is an all-around favorite, with great happy hour ground-beef tacos, excellent shrimp dishes and quick, friendly service.
For sheer variety of tacos, visit El Camino Real in downtown KCK at 903 N. Seventh St. Trafficway, where no less than 11 different kinds of tacos are served, including asada (steak), cabasa (beef head), lenguas (beef tongue) and longaniza (Mexican sausage).
This is also an excellent place to grab a torta (sandwich) with your choice of meat, beans, mayonnaise, cheese and guacamole.
Back on the Boulevard, the classy ambience of El Patron (2905 Southwest Blvd.) is matched by the high quality of its fajitas, seafood dishes and possibly the best enchiladas de mole in the city (tortillas stuffed with chicken or beef and covered with melted cheese and mole sauce, which is made with dried ground chilies, chocolate, nuts, seeds, onions, garlic and other spices).
If you haven't already loaded up on frozen margaritas at El Patron, which are half price every Monday, stagger across the street to Ponak's Mexican Kitchen (2856 Southwest Blvd.), where the margaritas are perhaps even boozier and the tortilla chips are limitless. And that just might be the true beauty of chips and salsa — it's one of the few dishes that function perfectly as both appetizer and dessert.
But more traditional desserts also exist just down the road at Paleterias Tropicana (830 Southwest Blvd., tropicana.derfour.com, also in Olathe and KCK), which serves traditional homemade ice cream, sundaes, ice pops, smoothies and more.
Top off your piecemeal Mexican feast with Tropicana's incomparable "Mangoneda," a frozen mango smoothie topped with chamoy sauce and chili powder. It's not for everyone, but those willing to give it a try will find it utterly delightful.
Buen provecho!
— Lucas Wetzel is a writer and editor from Kansas City, Mo. Know of an upcoming event in Kansas City you'd like to see featured in Kansas City Connection? Email us about it at kcconnection@ljworld.com.