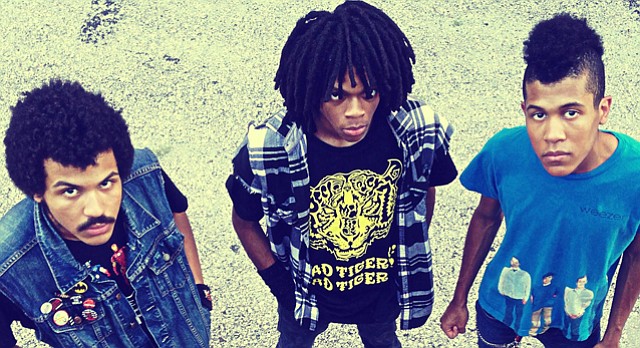 Thursday, September 24, 2015
It seems like the boys in Radkey are always on the road.
The three brothers who make up the Kansas City-based punk band are usually on a series of nonstop tours in the U.S. or overseas. Thanks to a new album and a move from St. Joseph, Mo., to Kansas City, it doesn't look like they'll be slowing down anytime soon.
The rockers are getting national attention, have performed on the British television show "Later with Jools Holland," and are rubbing elbows with some major players in the scene, including Franz Ferdinand, Rise Against and Jello Biafra.
In the middle of all this, they're making room on their international tour for a highly anticipated concert set for 9 p.m. Friday at the Bottleneck. There's a reason Radkey, which hasn't played a show in Lawrence in a couple of years, wanted to come here: This is where they got their start.
In 2012, before their current success, Radkey was playing at Lawrence venues for crowds so small, you could count the audience members on one hand. Bassist Isaiah Radke is the lively and chatty one of the group, and he notes that none of this could have happened without those first few shows in Lawrence.
"When we started out, it was hard to get shows. We tried to get shows in our hometown and we couldn't. So that was kind of a bummer," he says. "We had to play shows in Lawrence. They would take us in, which was cool because we were young but we still wanted to play music. Playing at the Replay Lounge for the first time was really cool, and from that night on we knew we would keep playing Lawrence forever."
A lasting impression
It didn't take long for word to spread like fire in Lawrence about Isaiah's physical antics onstage, his brother Dee's guitar shredding and booming voice, and Solomon's percussions skills.
Before long, crowds were doubling and tripling. The boys weren't old enough to even attend concerts at these venues, and suddenly they were the big draw and even started headlining local festivals like Lawrence Field Day Fest.
"People who came to see us reacted, which was really cool," Isaiah says. "Even the seven people or whatever the first time, they were jamming out, and that's all you want. They really left an impression on us. I never forgot that."
If you go
Radkey will be performing at 9 p.m. Friday the Bottleneck, 737 New Hampshire St., along with Gnarly Davidson and The People's Punk Band. Doors open at 8 p.m. Tickets cost $11 at thebottlenecklive.com.
The band was just as smitten with Lawrence as the fans were with the brothers. They even grew to adore some local bands, including Stiff Middle Fingers, The Rackatees, The Sluts and the now defunct DoublePlus (Isaiah wore a DoublePlus T-shirt nearly nonstop as they became more popular).
One of DoublePlus' members went on to found Gnarly Davidson, and Radkey will be teaming up with them and the People's Punk Band for the big throwdown at the Bottleneck on Friday. All this support has strengthened the punk scene in Lawrence. That kind of foundation is why the boys left their home of nearly 20 years in St. Joseph and made the move to Kansas City. It's centrally located and helps them take off for tour at the drop of a hat, but it's also close to all the music they love.
"We needed to go somewhere more happening," Isaiah admits. "People appreciate the bands around here a lot. We thought moving to positive vibes would help and be really fun."
'An actual band'
Up until now, Radkey was content releasing a series of EPs, until they realized they needed more to be taken seriously, which is why the band released its first full-length album, "Dark Black Makeup," last month.

"Having a record out, an actual record, makes us feel like an actual band," he says. "It feels legit now, and it's time to capitalize and see what we can do."
Isaiah declared that the band has a few goals they need to meet over the next year, like saving up for a new tour van and cutting back on the video games a bit, which sounds about right for young men in their late-teens and early 20s (Dee is 22, Isaiah is 20 and Solomon is 18). But Isaiah toys around with the idea of expanding his musical projects.
"It would be fun to start a stoner metal band, that would be really fun," he says only half-jokingly. "Or a Ramones cover band. It's just too fun to play Ramones songs!"
But for now, the boys have their nose to the grindstone. They're deep into this band, and they've got even grander aspirations now.
"I think with the kind of music we're playing, we can turn some heads," he says. "There's a huge new scene of awesome rock bands ahead. It's going to happen, and someone's gotta kick it off. We're hoping we can do that or at least be a part of it."
— Fally Afani is a freelance writer and editor of iheartlocalmusic.com.