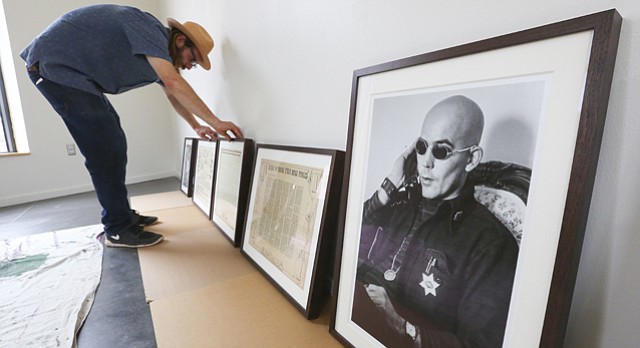 Sunday, September 27, 2015
At Daniel Joseph Watkins' Gonzo Gallery in Aspen, Colo., there's an even split between the moneyed customers clad in white linen pants and polo shirts who ask, "Who is Hunter S. Thompson?" and the young people who effusively proclaim their love of the famed journalist while also admitting to never having read any of his books.
Neither have a real understanding of the man, says Watkins, the Lawrence native and Aspen art collector whose "Freak Power" exhibit of political art and writing from Thompson's 1970 campaign for sheriff of Pitkin County, Colo., opened Friday at the Lawrence Arts Center and will run through Jan. 2.
Yes, the same Hunter S. Thompson who once remarked, "I hate to advocate drugs, alcohol, violence, or insanity to anyone, but they've always worked for me," once ran for office in what Watkins calls "an honest political campaign."
It's an important yet overlooked period of Thompson's relatively short life, says Watkins, who documents the 1970 campaign in his 2015 book "Freak Power" and now, the Lawrence Arts Center exhibit of the same name, which features 25 pieces of political art, writing, newspaper clippings, ephemera and photographs from Thompson's widely publicized campaign.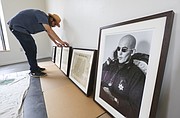 "There's the misconception that he was this drug-addled, crazy guy blowing (stuff) up with guns and hanging out with Keith Richards and Johnny Depp, that he was just this playboy. I think his legacy has become, in some ways, the drugs and the booze and the crazy antics," Watkins says of Thompson, who is perhaps best known for "Fear and Loathing in Las Vegas," his account of a drug-induced trip — in more ways than one — to Sin City that was later adapted into a film starring Depp as the larger-than-life writer.
If you go
The author and curator behind the "Freak Power" book and exhibition is hosting two related events this week.
First, Daniel Joseph Watkins will give a talk about "Freak Power" and sign copies of the book from 4:30 to 6:30 p.m. Sunday at 643 Indiana St.
On Monday, Lawrence Arts Center, 940 New Hampshire St., will also host an Insight Art Talk with Daniel Joseph Watkins from 7 to 8 p.m., where Watkins will give a "walk through" of the exhibit and explain the creative process behind the "Freak Power" book.
"But that was a driving force in me putting a book together, to say, 'Yeah, he was looked at that way later in his life, but let's look at this short period of time where he wrote prolifically about American values, law enforcement, drugs, the creation of a more livable society.'"
Fat City
The politically minded Thompson moved to Colorado in the late 1960s, joining the community of artists, intellectuals, hippies and other "freaks" who had already established a thriving counterculture in Aspen. He would spend the rest of his life in the area, living in his Owl Farm "compound" until committing suicide in 2005.
By the time of Thompson's death at age 67, Aspen was known as the "Glitter Gulch" for its glamorous ski resorts and high cost of living. It still is, Watkins says.
But in 1970, Thompson preached against the "greed heads, land-rapers, and other human jackals from capitalizing on the name 'Aspen,'" suggesting that the town change its name to "Fat City" in order to deter investors. (One piece in the Arts Center exhibition, a graphic poster that overlays the American flag's stars with dollar signs, is emblazoned with the title, "Fat City USA.")
It was one of the more radical components of his "Freak Power" platform, which also called for the decriminalization of drugs, transforming roadways into grassy pedestrian malls and banning buildings that might obscure views of the mountains.
Thompson shaved his head for the campaign, enabling him to refer to Republican incumbent Carrol D. Whitmire, who sported a crew cut, as "my long-haired opponent." He wore Converse All Star sneakers and shorts to town hall meetings, and openly admitted to tripping on mescaline to a Washington Post reporter just hours before the interview.
'He wants too pure a world'
The Freak Power campaign, despite Thompson's outlandish tactics, was an honest one. And Thompson, realizing as the election closed in that he might actually win, took the position seriously.
He aimed to protect Aspen's young people, whom he felt were victims of harassment at the hands of local police.
"Hunter wanted to have a more compassionate approach to law enforcement. He wanted people to view the cops as their friends," Watkins says. "So, he wanted to transform the sheriff's department from these guys with guns — you know, like cowboys — to not necessarily busting people for blocking the sidewalk or smoking weed or playing the flute."
In the words of his friend and fellow writer James Salter, "The only thing against him is, he's a visionary. He wants too pure a world."
Thompson, stifled by a slew of "dirty tricks," among them an illegal mailer that portrayed him as an SS officer (it's among the pieces on display at the Arts Center) and Whitmire withdrawing a few days before the election in order to consolidate the anti-Freak Power votes, didn't win. In his concession speech, Thompson remarked, "I unfortunately proved what I set out to prove, and it was more a political point than a local election, and I think the original reason was to prove it to myself, that the American Dream really is [expletive]."
He came up just 450 votes short, Watkins says.
"My goal was to use the exhibit and use the book as a vehicle to inspire people to make changes. These guys cared about their community immensely," he says of the Freak Power campaign. "They got people registered to vote, they got people involved in the process, and although Hunter didn't win, a lot of people later on embraced the platforms he proposed and followed through on them."
Aspen eventually placed limits on home construction and traffic access to town, Watkins says, and in 2012, Colorado legalized recreational marijuana use.
Timely messages
Watkins, who spent roughly two and a half years combing through the archives of the Aspen Times and the Aspen Historical society — as well as the "barns, basements and attics" of Aspen residents who lived through the period — to collect materials for the "Freak Power" book, says many of the issues from Thompson's campaign are still timely today.
The public's growing distrust of law enforcement in the wake of Ferguson and similar events echoes Thompson's call for a reformed sheriff's department. In Lawrence, where controversy over the East Ninth Project has dominated City Commission meetings as of late, Thompson's views on gentrification should be especially relevant.
Watkins says the Lawrence exhibit will hopefully be the first stop on a "Freak Power" tour of like-minded communities throughout the country — places where people will "get" Thompson's message. He's optimistic the show will act as a "roadmap for engagement" for civic involvement.
"What better way to go home than to show the work in Lawrence and have university students get involved, have locals get involved?" Watkins says. "I think a lot of this material will resonate with people in Lawrence."