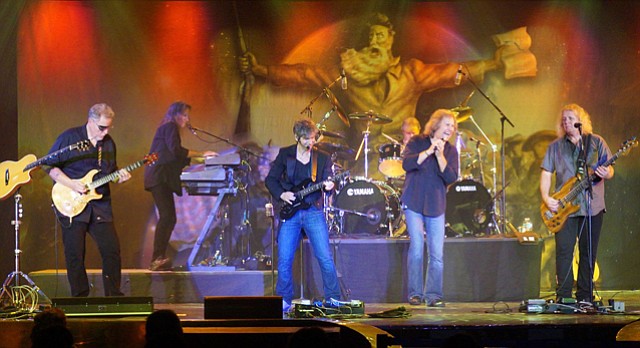 Sunday, September 27, 2015
On Sept. 12, amid a slew of shows stretching down the California coast, Ronnie Platt celebrated his one-year anniversary as lead singer of Kansas. By the time he reaches Lawrence for Kansas' concert at the Lied Center on Friday, Platt will have already marked his 100th gig with the legendary rockers (and Topeka natives) known for hits like "Carry on Wayward Son" and "Dust in the Wind."
But Platt, speaking over the phone from his Chicago home during a rare break between shows, isn't sure he'll ever fully adjust to his new star status.
After all, it was just 15 months ago that Platt, a self-described "blue-collar guy" with a fondness for Harley Davidson motorcycles, was still driving trucks to pay the bills.
"It's funny — in some respects, it feels like I've always been here," Platt admits, his distinct Chicago accent on full display, before shifting gears. "The last year has gone by like the blink of an eye. It's such intensity, between all the traveling and then to have that super adrenaline rush, that energy, when you get on stage. The energy, the intensity, just doesn't stop."
If you go
What: Kansas performs in celebration of KU's 150th birthday
Where: Lied Center, 1600 Stewart Drive
When: 7:30 p.m. Friday
Cost: Tickets range from $19 to $45, and can be purchased at www.lied.ku.edu.
Of course, the 53-year-old musician — Platt says he started his first band in eighth grade — is no stranger to life on the road. When longtime Kansas frontman Steve Walsh announced his retirement last summer and the search began for his replacement, Platt had already made a name for himself singing with ARRA, a Chicago-area classic rock cover band.
Before that, Platt spent a couple of years with Kansas City's Shooting Star. He was singing in the band — and still logging hours as a truck driver, a job he held for the better part of three decades — during Shooting Star's induction into the Kansas Music Hall of Fame in 2009.
He'd also racked up gigs with dozens of high-profile classic rockers over the years, among them Steve Miller and Journey.
Platt was on Kansas' radar well before the phone call from guitarist Rich Williams that led to a whirlwind meeting in Atlanta ("We know you can sing your butt off — we just want to know if you're a good guy, if you can fit in with the band," Platt remembers Williams and drummer Phil Ehart telling him) and official job offer in summer 2014.
The whole process, Platt recalls, unfolded in about four days. Two months later, he was playing his first show with Kansas in Oklahoma City.
"Well, on the side of the stage, they had oxygen and a defibrillator," Platt jokes of his inaugural concert. "Of course, I was thinking about how we were going to be accepted by the fans, but I was just so absorbed with doing a good job, you know?"
Counting himself among Kansas' loyal legions of fans, Platt says he's been received well by audiences so far.
He might face some added pressure when Topeka's prodigal sons return to the Sunflower State with gigs in Emporia, Lawrence (to celebrate Kansas University's 150th anniversary, appropriately enough) and Dodge City this month, but given his track record, chances are he'll do just fine.
"When you play in Kansas and the name of your band is Kansas," Platt quips, "you better be good."