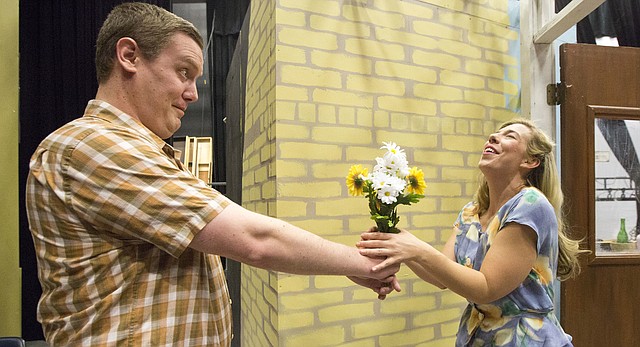 Most people familiar with "A Streetcar Named Desire," says Piet Knetsch, are only familiar with just that — the name of the play itself, and not much else.
Not much else, he says, beyond the now-famous scene in the 1951 film adaptation in which Marlon Brando, playing the brutish, broken Stanley Kowalski, yells out his wife's name ("Stella!") in a desperate plea for her forgiveness.
"That's the association. That's mostly what people remember. And very few people have seen the play," says Knetsch, who until recently counted himself among those yet to see the Tennessee Williams classic performed on stage.
After studying the famed playwright's works in graduate school and a lifetime in the theatre — one that included productions of "Cat on a Hot Tin Roof" and "The Glass Menagerie," he notes — Knetsch now finds himself at the helm of arguably Williams' greatest play.
Directing Theatre Lawrence's version (curtain time is 7:30 p.m. Friday) has given the 70-something theater veteran a new perspective on "A Streetcar Named Desire," particularly of its antagonist first portrayed on Broadway and on film by Brando.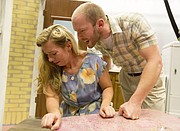 "Those are things that I find intriguing and difficult but also wonderful to work on, so that we can try to understand these people and portray them in a positive light, even though they do terrible things in the end," Knetsch says of his "humanizing" role as director. "I too would have just seen, in my memory of Stanley Kowalski, that he's just a crude rapist and abuser, but he's not only that."
Set in New Orleans' French Quarter, the play (its name is taken from the now-defunct Desire Line of the city's streetcar system) juggles issues (sexual violence, mental illness, loneliness even whilst living in an increasingly smaller world) every bit as relevant today as they were in 1947, when it premiered to instant critical and commercial success.
"A Streetcar Named Desire" refers to the route taken by aging Southern belle Blanche DuBois (Melinda Nichols) upon arriving in New Orleans to live with her sister, Stella (Laura Rose Clawson), and troubled brother-in-law, played by Christoph Cording. Blanche's stay in the cramped Kowalski household takes its toll on her mental health and her sister's already shaky marriage, but, having lost her family home to creditors and her husband to suicide, she has nowhere else to go.
Stanley, as we soon find out, is not an ideal husband. He's passionate, yes, but his unbridled passion leads to violence when he strikes Stella in a drunken rage. His relationship with Blanche is strained from the start (she finds him loud and boorish, while he does not care for her manners and resents her presence) and ends, tragically, in sexual assault.
"Blanche describes him in animalistic terms, and that's not inaccurate," says Knetsch. But Stanley is so beloved, by his poker buddies and co-workers and, troublingly, his wife that we can't help but wonder why.
He's also, Knetsch points out, a veteran. The audiences of 1947 were not far removed from memories of WWII, which had ended two years earlier. Though only briefly mentioned, Stanley's veteran status (he served as a master sergeant in the Engineers' Corps at Salerno) lends insight into his anger and frustration with an America that would have seemed so unfamiliar and confusing to soldiers returning to civilian life.
As Knetsch puts it, "He saw the evil and death in war, and he survived it." There's a good chance he may have brought some of it home with him, too.
Karl Ramberg, a musician, artist and longtime friend of Knetsch, has been tasked with composing original music for the Theatre Lawrence production. Performed at key moments, the use of Polish folk music (Stanley Kowalski, of course, is a "Polack," as Blanche insultingly calls him) summons memories of Blanche's late husband. His suicide, spurred after Blanche discovers him in a sexual encounter with another man, becomes associated in her mind with the music.
"The big theme, to me, is the plight of women and how they are in our culture demoralized and abused — physically and with words. And that's part of life that keeps happening," he says. "Tennessee Williams could see the things about our American character that were pretty bleak. Those things are still with us, 60 or 70 years later."
Granted, "there's much more awareness" of violence against women these days than in 1947, says Knetsch. But the way in which we view — perhaps in a more judgmental light, he says — women who stay with their abusers in the 21st century is a change from the attitudes in the "Streetcar" generation.
His own father struggled to understand why Knetsch's grandmother remained in an abusive relationship until her death. Knetsch never witnessed the abuse firsthand, but noted the damaging ripple effect it can cause within a family.
"I think those are issues that one has to confront, and we have to perform them honestly," Knetsch says of the onstage violence. "This is what it is, and audiences can reach their own judgments about how they feel about these characters."

Like Williams' other works, "A Streetcar Named Desire" brims with autobiographical elements.
The sensitive and dreamy Blanche's struggles with mental illness mirror that of Rose, Williams' sister who, after being diagnosed with schizophrenia at a young age, underwent a lobotomy that left her institutionalized for the rest of her life. Williams "never forgave himself" for allowing the operation, Knetsch says.
In addition to his alcoholism and drug addiction, the playwright also suffered from frequent bouts of depression, and harbored a fear that he one day would slip into insanity like his sister.
Stanley Kowalski is based on a man Williams worked alongside at the shoe factory where his traveling-salesman father (who was himself prone to abusive behavior, an overindulgence in drink and poker-game fights, one of which resulted in part of his ear being bitten off) had been promoted years before.
"As you may have noticed," Williams once wrote in a letter, "I have only one major theme for all my work which is the destructive impact of society on the sensitive, nonconformist individual."
A nomad all his life, the playwright died in a New York City hotel suite littered with wine and pill bottles in 1983. He was 71.
Maybe suffering is, indeed part of the human condition, says Ramberg. But "Streetcar," at the very least, "makes you question it and look at it, and too often we don't."