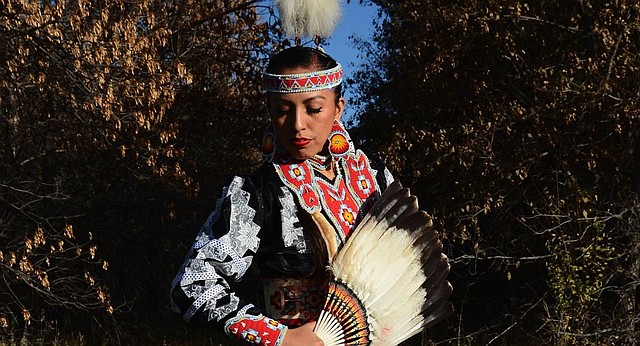 Tonia Hall still isn't sure how she snagged the coveted role of Head Lady Dancer in this week's 33rd annual Gathering of Nations, but she's pretty sure positive thinking had something to do with it.
On Friday, the Lawrence resident will lead the Grand Entry into the Albuquerque, N.M., arena known as The Pit, where more than 700 Native American tribes congregate each year at the world's largest meeting of indigenous people.
It's a huge honor, says Hall, whose selection falls on the heels of a relatively "late start" in the Gathering of Nations dancing circuit. After placing in contests at the powwow — which attracts more than 700 tribes from across the U.S. and Canada, as well as 3,000 Native American traditional dancers — in 2013 and 2014, Hall's luck seemingly run out at last year's Gathering.
After winning first place just two years before, Hall left the competition empty-handed. Not letting it defeat her, Hall sat with her sister at the top of The Pit and predicted her eventual return.
"I pointed down there to The Pit, which is way, way down there when you're sitting up top, and I said, 'I don't know what I have to do to be Head Lady, but I'm going to be the Head Lady. I don't know when they're going to ask me, but it's going to happen,'" Hall recalls.
A few months later, after receiving an official offer via mail, the job was hers.

"Putting it out in the universe and then getting that letter, I was like, 'What? Seriously?' That's true — when you put things out into the universe and speak good words over yourself, good things can really become reality," she says. "It's not just a saying."
As Head Lady Dancer, Hall serves as a role model of sorts, representing her fellow female dancers at the Gathering, which convenes Thursday for three days of Native American dance, music, arts, crafts and food.
The gig is just one of several filling Hall's schedule this month — in addition to dancing professionally, the 27-year-old has built a successful career for herself as a stand-up comedian, with more than 100,000 Facebook followers and counting.
Hall was on the road for a college gig in North Dakota when she spoke to the Journal-World last Wednesday, with a gala performance for a Native American business owners' conference booked for the weekend. When she returns to Lawrence on Monday, she'll have a little over 24 hours to celebrate her daughter's birthday before the family packs up for New Mexico on Wednesday.
Comedy is primarily how she supports herself now, but Hall — who belongs to the Lakota, Dakota and Hidatsa tribes — didn't always envision herself working in entertainment. Originally, the plan was to go into law enforcement.
"I got my two-year (degree) in criminal justice because I had these high hopes of serving my community as a police officer," says Hall, who was disillusioned after hearing "horror stories" from her criminal-investigator aunt. "I couldn't look at myself in the mirror and say, 'You could take someone down if they jumped on your back.' I couldn't see it, so I moved on to Native American studies."
Between earning her two degrees, Hall took up comedy and began volunteering on her North Dakota reservation. Word spread, and soon people were inviting her to perform at nearby schools, casinos and conferences. These days, gigs include motivational speaking engagements for young people and speaking as an advocate against domestic violence, which she did last fall.
Hall is serving her community, albeit through a different route than she'd imagined for herself years ago, she says.
"Everyone has a calling, and mine is making people laugh, telling stories, making people feel good," Hall says.
Part of that is dance. Serving as Head Lady Dancer is the fulfillment of a long-held dream for Hall, who grew up in the powwow circuit.
Her mother taught her to dance when she was young, and she's doing the same with her own daughters, 9-year-old Sapphire and 8-year-old Lahlee. Right now, the girls seem more interested in "running around with their friends" than the discipline and fanfare of competitive dance, but she hopes they'll eventually find as much joy in it as she has over the years.
Soon, Hall will be able to cross one item off her list of goals and replace it with another. Now that she's received the Head Lady Dancer honor and is on her way to a successful comedy career (she'd like to slowly tap in to the mainstream market), Hall hopes join in the recent efforts taken by tribal leaders to revitalize the Lakota language, which, thanks to years of genocide and assimilation, she says, is slowly dying off along with the older generation of native speakers.
She earned her instructor credentials while still in college, and hopes to be teaching Lakota within a few years.
"I want my girls and I to know our culture so that I can pass it on to my grandkids. That's the only way we're going to survive," she says. "To know our language is a key to our culture. It's a key to our songs, it's a key to our dances, it's a key to our ceremonies, and it's a part of who we are."
More like this story on Lawrence.com