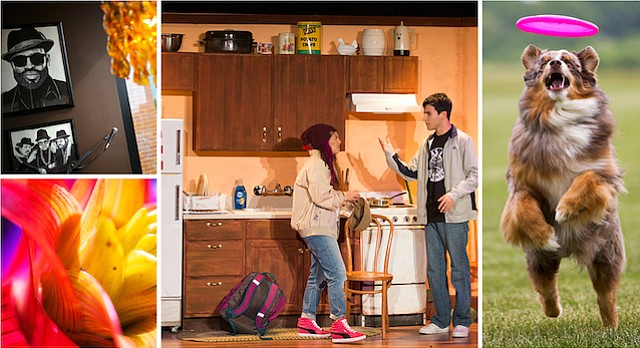 Coming up this weekend: April's installment of Final Friday, a thoroughly modern coming-of-age tale from KU Theatre, Art in the Park and flying high with Fido at the Skyhoundz Disc Championship.
April Final Friday
Approximately 5 to 9 p.m. unless otherwise noted, various locations across Lawrence
A few intriguing items on this month's Final Friday calendar: Collins Spaedy's exhibit of "Sharpie portraits" (some of them featuring Spaedy's favorite hip-hop artists) and T-shirt art at Henry's Coffee Shop starting at 6 p.m., a "celebration of unexpected art from the Lawrence mental health community" with refreshments and live music at the Lawrence Percolator, and the opening of "Gathered Nations: The 1926 Haskell Pow Wow" (the exhibit chronicles this titular event, which was held to commemorate the completion of the university's then-new football stadium) at the Watkins Museum of History from 5 to 8 p.m.
Visit www.lawrenceks.org/finalfriday for a complete listing.
---
"Welcome to Arroyo's"
7:30 p.m. Friday and Saturday, 2:30 p.m. Sunday, KU's William Inge Memorial Theatre at Murphy Hall, 1530 Naismith Drive
Featuring two live DJs serving as a Greek chorus, this coming-of-age story by Kristoffer Diaz follows a pair of siblings — Alejandro, a struggling bar owner, and Molly, an emerging street artist with a penchant for tagging the local police precinct — as they navigate life after their mother's death.
It's also a "compelling story investigating the long, and often untold, history of hip-hop music," KU Theatre promises.

Friday's show is already sold out, but tickets are still available for the rest of the run — "Welcome to Arroyo's" remains at KU through Thursday. Tickets range from $10 to $15, and can be purchased at the KU ticket office, online at www.kutheatre.com, or by calling 864-3982.
---
Art in the Park
10 a.m. to 5 p.m. Sunday, east side of South Park
The Lawrence Art Guild's primary fundraiser returns to South Park this weekend, bringing with more than 100 artists and craftspeople (offering everything from paintings and photography to ceramics and jewelry for your shopping perusal) and loads of family-friendly diversions.
Attractions include live music, food vendors along Massachusetts Street, an Art Tougeau car for visitors to decorate, a Lawrence Arts Center Pre-School children's painting project, and adoptable pets from the Lawrence Humane Society.
---
2016 Skyhoundz Frisbee Dog Championships
2 p.m. Sunday, west side of South Park near the Lawrence Parks and Recreation administrative office
This local contest will pit canine competitors against each other in distance/accuracy events, with awards going to the top dogs, as well as a non-competitive freestyle portion.
All skill levels and breeds (including mixed) are welcome. Registration begins at 1:30 p.m. for competitors (no entry fee required), while the showdown itself kicks off at 2 p.m.
The Lawrence Parks and Recreation department's Pet Expo will be held, featuring plenty of doggie merchandise, in conjunction with the competition from 10 a.m. to 4 p.m.
Check out www.skyhoundz.com for a competition schedule and list of rules and regulations.
---