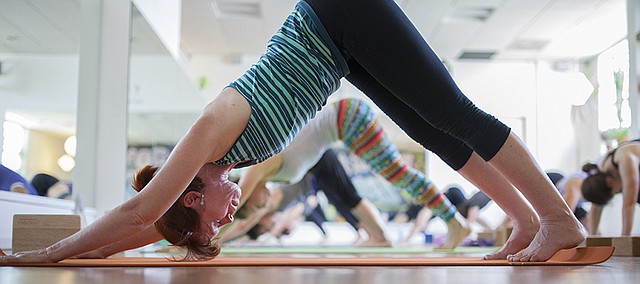 On a day when the National Weather Service has issued an excessive heat warning for over half of the state, most in Lawrence don't dare set a foot in a heated pool, let alone a heated room.
But then there is this room at 1405 Massachusetts St. The heaters are on. Temperatures hover between 100 and 110 degrees. The room is full with a dozen women, and becoming fuller all the time with the beads of sweat collecting on the floor and elsewhere.
"It is all about perspective," says Becky Basore, one of the 12 class members.
What is LOOK?
"Look" is a feature by Journal-World photographer Nick Krug that looks in depth at topics of interest — particularly visual interest — in our community. Email him at nkrug@ljworld.com.
For me, it's all about figuring out the mystery of what is commonly called hot yoga.
We're at OmTree Shala's Hot Hatha hot yoga class. Maria Cuevas, the teacher, leads the students from a bench positioned in the back of the room. She sits cross-legged, much the same as the Buddha statue to her right. At times she uses a gentle, yoga vernacular that I can't quite follow, but the class members, twelve of them and all women, seem to understand fully as they transition seamlessly from one pose to the next.
For someone who doesn't appreciate the energizing and toxin-ridding benefits of yoga, the Hot Hatha class might feel like being shut inside an unfinished attic during a heat wave.
Even owner and teacher Sharyn Harley explained that she is often surprised with the amount of people who return for hot yoga during the summer. But they do return.
"It seems like if people were already going to be hot all day that they wouldn't come in," Harley says. "When we're measuring heat, it's usually 100-110 (degrees) depending on the heat that's being generated by the students and the temperature outside. We're warming up your muscles from the inside out."
So, when it is this hot, is there any temptation to skip class and go horizontal on the floor next to the nearest AC vent?
An unequivocal 'no' is the answer I receive from hot yoga regulars Basore and Jen Oldridge of Lawrence.
"I love it," Oldridge says. "I never miss a class."
"After you come out of that class you're like, 'Oh, it feels pretty good outside,'" Basore says. "(Hot Yoga) allows you to find comfort in the uncomfortable. The heat is just one more element, but it's a big one."
"When I went to my first hot yoga class I went in with some trepidation, like, am I going to feel sick? Is this going to be miserable? And it wasn't," Basore says.
Two common misconceptions about hot yoga that Harley often encounters are the idea that hot yoga is a desert-like atmosphere devoid of water, and "participants have to be able to turn themselves into a pretzel beforehand."
"We really encourage (the students) to take care of themselves and pay attention to their bodies," she says. "We encourage water and for them to leave if they need to." (Multiple websites also encourage people with heart conditions to talk with their doctors before beginning a hot yoga program.)
And, of course, be prepared to sweat. I've been told before that I'm a good sweater and after walking into the Hot Hatha class, it takes me all of three minutes and 24 seconds to start feeling the beginnings of perspiration forming on my forehead. By 20 minutes in, and without exerting nearly the same energy as the students, drops are falling onto my cameras.
"Literally, you can hear your sweat hitting the mat," Basore says.
As the class winds down, the students have their backs to the ground, arms and legs slightly to the sides with palms facing up. Cuevas, who is sitting closest to one of the heating elements, leads them through a short period of meditation. She shows nary a hint of perspiration. I, on the other hand, look as though I've run a marathon through a gauntlet of water cannons.
But remember, it is all about perspective.