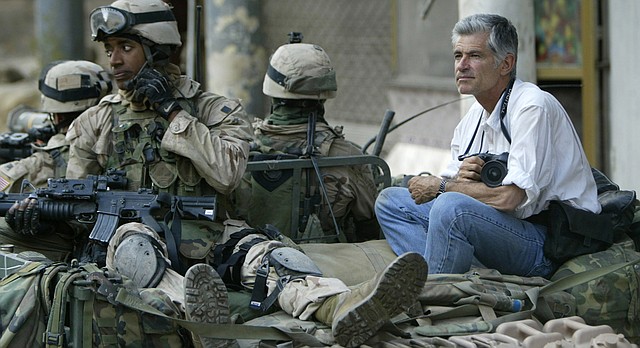 Thursday, February 4, 2016
Noted war photographer James Nachtwey will present the keynote lecture for Kansas University's Common Book Program on March 1 in the Kansas Union, KU announced Thursday.
Ernest Hemingway's "A Farewell to Arms," the 2015-2016 Common Book, chronicles the experience of an American ambulance driver during World War I. During his lecture, titled "The Unvanquished," Nachtwey will discuss how Hemingway has personally influenced him, as well as the parallels between the themes in his photographs and Hemingway's novels.
Nachtwey, a contract photographer for Time magazine and a frequent contributor to National Geographic, has shot the Sept. 11 terrorist attacks, the AIDs epidemic in Africa, wars in Afghanistan and Bosnia and, most recently, the Syrian immigration crisis in Europe. He is a five-time recipient of the Overseas Press Club's Robert Capa Gold Medal for war photographers, a 2007 Ted Prize, and is the subject of 2001's Academy Award-nominated documentary "War Photographer."
Nachtwey's visit is co-sponsored by KU's School of Journalism. His talk, scheduled for 7 p.m. in the Kansas Union's Woodruff Auditorium, is free and open to the public.