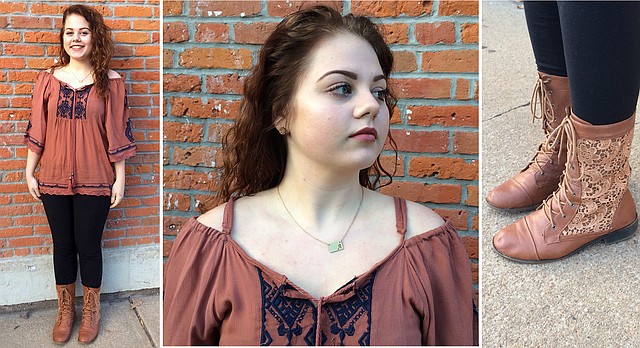 Name: Ashley Barton
Age: 20
Relationship status: In a relationship (with Sarah Allen, for about a year)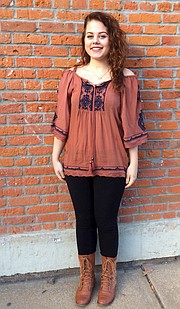 Hometown: Wichita
Time in Lawrence: Just moved about a month ago
Occupation: In accounts payable at Protection 1 here in Lawrence
Dream job: Dolphin trainer, or in the cat circus.
Describe your style: I can do business professional, I can do classy, I can do edgy — it's just really what I'm feeling. Especially with (Sarah's) influence, sometimes I'm more edgy than I would normally be. I like comfort; I like flowy.
Fashion trends you love: I don't think I really follow trends too much.
Fashion trends you hate: There's nothing that I hate, but there are some things that get on my nerves, like the trends that catch on too quickly.
Fashion influences: I normally just look at what my friends or my sisters or someone else is wearing, and sometimes that gives me influence, but I don't really look at magazines or anything like that. Pinterest, I look at Pinterest, but no one in specific.
What are your favorite and least favorite things about Lawrence? Wichita's not a large city but it's definitely bigger than Lawrence, so I like the homey feel it has here since it is a smaller town. I haven't really come across anything I don't really like.
Tattoos or piercings: One tattoo, 12 piercings.
What's your spirit animal? Dolphin — they're free, and I would like to be like them. They're majestic and they're so sweet; they just love people. I would like to look more like what it would mean for them to be my spirit animal, but I'm just saying that because I love them and what they do.
Whom do people say you look like? My dad; no one famous. I look a lot like both of my parents, and my siblings.
Tell us a secret: Always keep a lint roller — in your car, at work, at home, in your purse — lint rollers are key. That's my secret.
More like this story on Lawrence.com