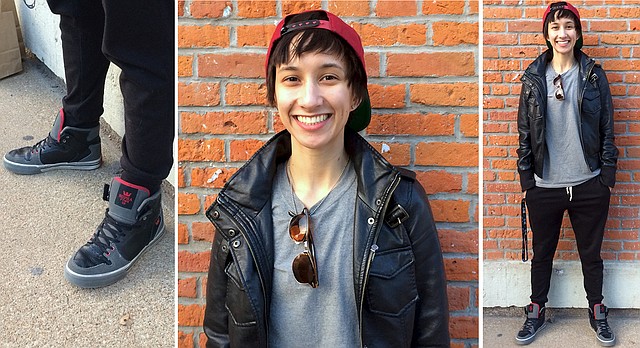 Name: Sarah Allen
Age: 22
Relationship status: In a relationship (with Ashley Barton, for about a year)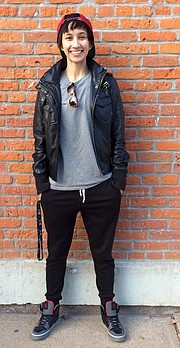 Hometown: Wichita
Time in Lawrence: Just moved about a month ago
Occupation: Works at Freddy's in Overland Park; also in Air National Guard
Dream job: Eventually I'd like to go active status guardsman, which is like a full-time National Guard employee. If we're going unrealistic, I want to be a longboarding guitarist.
What were you doing when scouted? Just walking down Mass Street; seeing Lawrence.
Describe your style: Depends on my mood. Sometimes I'll just wear a T-shirt; I usually stick with simple stuff. I don't like to go crazy. I guess you could say I was feeling kind of 'bro' today, so I have joggers on. This is my lazy outfit.
Fashion trends you love: Androgynous; that's probably my No. 1. I can dress feminine or masculine, but I like to have the freedom. Just dressing how you feel.
Fashion trends you hate: I roll my eyes at some of the fads and how quickly people pick them up, but I can't really say that I hate anything. It's more annoyance.
Fashion influences: There's a lady named Esther Quek; she's really popular on Tumblr. She's a fashion director that lives in Hong Kong. She dresses business professional but she has this feminine twist on suits, and it's super freaking awesome.
What are your favorite and least favorite things about Lawrence? There's a lot to do; Mass Street is pretty rad. There wasn't really anything like this back at home. Least favorite? Game night traffic. I didn't realize how bad it was and it almost made me late to work one time.
Tattoos or piercings: Eight tattoos; piercings, only ears anymore
What's your spirit animal? Probably a tiger, or a lion — big cats. They're kind of quiet and keep to themselves, but they're also really fierce.
Whom do people say you look like? Back when my hair was long they said I looked like some lady off "Parks and Recreation" (Rashida Jones) — my hair used to be just as long as hers, and I used to be kind of girly back in the day. Nowadays, the hair goes kind of Bieber-ish sometimes. It's not too fun, honestly. People make fun of you.
Tell us a secret: Find time for yourself — that's the biggest thing; your passions, whatever you like to do. Yoga, guitar — those are my things.
More like this story on Lawrence.com