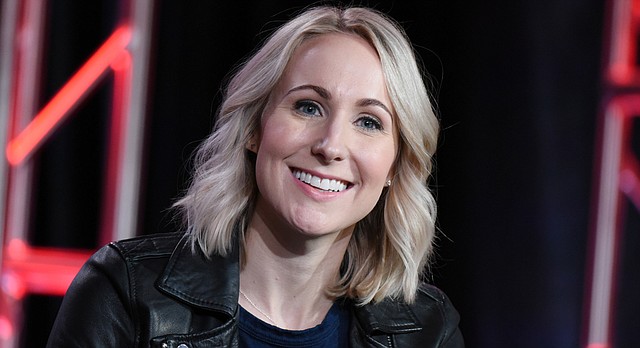 Sunday, February 14, 2016
Kansas University alumna, Midwest native and newly minted comedy star Nikki Glaser is a self-described "curious perv," and proud of it.
From her humble beginnings at Kansas City comedy clubs (the reluctant English major would commute after classes in Lawrence any chance she got) to her new Comedy Central show, "Not Safe With Nikki Glaser," the 31-year-old has always been fascinated by sex.
After memorable appearances in Comedy Central's "Inside Amy Schumer" and last summer's "Trainwreck" (she's a close friend of the superstar comic), Glaser at last has her own sex-positive starring vehicle, and it's every bit as bold as its title might suggest.
In "Not Safe," nothing and no one — including Glaser herself — is safe, as the comedian explores everything from foot fetishes, the biological explanation behind polyamory and her parents' sex lives through a series of "panel discussions, field pieces and social experiments," as Comedy Central describes it.
Last Tuesday, just a few hours before her show's premiere, the former Jayhawk (class of 2006) chatted with the Journal-World about awkward on-set moments, sexism in comedy, and feeling comfortable in her own skin.
(FYI: Besides sex, Glaser also loves Aladdin Café, Henry's Coffee Shop, crisp fall walks on the KU campus and Lawrence's unique aroma, which she still remembers after all these years. Hollywood has nothing on our "earthy" smell, apparently.)
JH: There's one bit in the show where you're interviewing your father about his sex life while he's hooked up to a polygraph machine, and the questions start to get pretty raunchy. Was there ever a moment filming — maybe it was that particular moment — where you thought, "Maybe we've crossed the line," or questioned your own comfort level?

NG: Yes, totally. There are a lot of moments like that. I wrote all these questions to ask my dad, just thinking, you know, that it would never happen. It's the craziest thing about having a TV show — you just write stuff down and suddenly it goes off into the world and it's in front of you. So, what I wrote originally to make my friends laugh in the writers' room ends up being on camera and real. It's risky and it's thrilling. I've said it before, but that's when you know you're doing something good — when you feel pretty uncomfortable doing it. And the show's called "Not Safe," so when we feel unsafe doing something, we feel like, "OK, we're living up to the name."
JH: Do you think that uncomfortable moment with your dad brought you two together in a weird way?
NG: Yeah. I mean, I interviewed both my parents, and I thought they had a pretty boring sex life. Like, I just thought that they were very prudish and that my mom just kind of put up with it. And although that's somewhat the case, they're actually really in a great place, and it made me kind of look forward to growing old with someone. It was still awkward as all get-out, but it made me feel happy for them. And then I watched some porn with my mom — we filmed that — and that was weird. And fun. That really did bring us closer together. I tell her during the piece, "Do you remember when you didn't let me watch 'Dawson's Creek' because you thought it was too risqué, and now we're watching porn together on my TV show?" (laughs)
JH: A lot of your material revolves around sex, but I read that you're not a fan of the term "sex comic."
NG: Yeah. It's a narrow category, and it's almost a derogatory label. It's just something that people say to write you off as one-note or to be able to say that, "She's not worth me giving a (expletive) or respecting her craft or respecting her as an artist," because to them, it's "what you do is easy." That's what it is. To a lot of people, if you just talk about sex, it's so easy. They'll say, "Everyone laughs at sex." And you know what? People like to laugh at sex. It gets laughs. But does that mean we shouldn't talk about it? It just so happens to be my favorite thing to talk about and I can't help that, so that's just the way that is. I don't shy away from it, but I don't ever present myself as a sex comic. I don't present myself as a "female comic," either. "Sex comic" is just a way for people to write you off, especially if you're a woman.
JH: Your friend Amy Schumer, who has also been labeled a "sex comic," offered up a similar critique last year, joking that a male comedian could (expose himself) on stage and people would still say, "He's a thinker."
NG: I always felt like a comic who just happens to be a woman. I never saw the sexism in comedy until recently — when you read stuff online about your friends and yourself, and you realize, "Oh my God, people are so narrow-minded." They are so quick to write you off and judge because they can't handle a woman up there owning it and being funnier than they ever will be and being smarter than they ever will be. They just can't take it, so they just write them off as just a sex comic. I try to avoid reading that stuff, because there's no changing those people's minds. They're too far gone. We've lost them already. It just makes me sad, more than anything. I'm not sad for myself, because I can handle it, but it makes me sad for the women in those men's lives.
JH: Comedy Central is known for targeting young male viewers. Do you worry at all about how the show — and its feminist perspective — will be received by those viewers?

NG: I think they're well-primed for it, because Comedy Central does have mostly male viewers, I think, but male viewers like female content, as proven by "Broad City" and "Inside Amy Schumer" and "Idiotsitter." So I know there's room for it and I know they're not going to see my face and be like, "What is this thing with these boobs?" or automatically write me off. I definitely do think you have something else to prove. But you always do as someone new. I've been on the network enough that there's a familiarity, and as long as we're funny, they're going to watch. And so if we can sneak in our point of view with the funny, they won't even notice that we're being feminist or being political.
JH: I know there's always some level of performance when you're on camera, but how close is your "Not Safe" persona to your actual, everyday self? Are we basically seeing the real Nikki on screen?

NG: I think you always heighten it when the cameras turn on, but the best thing about this show is I'm working with all my closest friends and my boyfriend. I'm always encouraged to be myself and the best version of myself, and I couldn't be more comfortable. I think that's also being 31. Not that I feel that's somehow a super mature age — I think I have a lot of maturing to do — but I feel like I'm at an age where I've done a lot of work on myself to the point where I can feel comfortable in my own skin. To the point where I can do embarrassing things on camera and not go, "Oh my God, what are people going to think?" or "Did I look fat there?" I'm to the point now where I don't break down crying every day about that. It's only, like, once a month. (laughs)