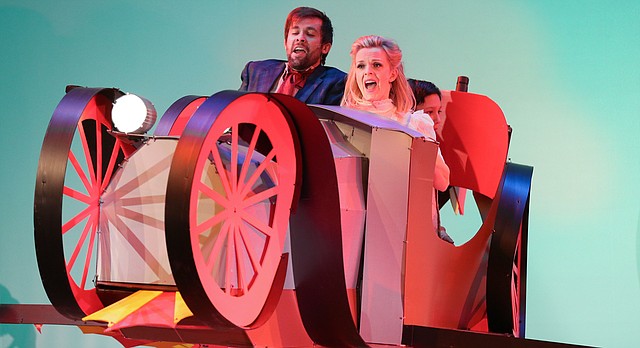 Friday, February 19, 2016
This weekend in Lawrence: a "truly scrumptious" musical makes its Lawrence Arts Center debut, model-train enthusiasts congregate at the fairgrounds, chili (with the fixin's) is ladled out at the American Legion, and Douglas County CASA gets in the groove with a Zumbathon.
"Chitty Chitty Bang Bang"
7:30 p.m. Friday, Lawrence Arts Center, 940 New Hampshire St.
The "truly scrumptious" musical makes its Lawrence Arts Center debut this weekend, complete with endearingly quirky heroes, dastardly villains, witty lyrics and live music by the Free State Liberation Orchestra.
The stage musical, for those who missed the 1968 film adaptation, loosely follows Ian Fleming's original tale of an oddball inventor and his children whose magical, flying car transports them through a series of harrowing adventures.
The show runs through Feb. 28 at the Arts Center, with the first performance slated for 7:30 p.m. Friday. Tickets range from $10 to $25, and can be purchased at www.lawrenceartscenter.org or at the Arts Center box office.

---
Lawrence Model Railroad Club show and swap meet
9 a.m. to 4 p.m. Saturday and 9 a.m. to 3 p.m. Sunday, Building 21 at the Douglas County Fairgrounds, 2120 Harper St.
The Lawrence Model Railroad Club returns to the fairgrounds with its 15th annual show and swap meet. Among the attractions: train layouts, vendors, a silent auction, door prizes, concessions, the popular (train) model contest and more.
Admission is $6 for adults; children 12 and under are free with a paid adult. Guests who bring canned food donations for L.I.N.K. will receive a $1 discount per admission.
For more information, including entry forms for the model contest, visit www.lawrencemodelrailroadclub.org.
---
Chili Feed at the American Legion
11 a.m. to 2 p.m. Sunday, American Legion Dorsey-Liberty Post 14, 3408 W. Sixth St.
Chow down for a good cause Sunday at the American Legion, where the Lawrence Breakfast Optimist Club is serving up homemade chili to benefit local youth.
This weekend's menu includes chili, of course, plus cornbread, hot dogs, fixin's, desserts and beverages.
Meals cost $6 for adults and $3 for kids ages 6 to 12, while children under 6 eat for free.
---
Zumbathon for Douglas County CASA
1:30 to 3 p.m. Sunday, Bishop Seabury Academy, 4120 Clinton Parkway
Fiesta Z Fitness is inviting folks to "dance for kids" at this weekend's one-and-a-half-hour Zumbathon at Bishop Seabury Academy.
Eight area Zumba instructors have signed on to lead the fundraiser, which benefits Douglas County Court Appointed Special Advocates (also known as CASA). If that's not enough to hook you, there will also be door prizes.
Tickets (children 12 and up are welcome) cost $10. Participants can register online at www.dccasa.org or at the door.
---