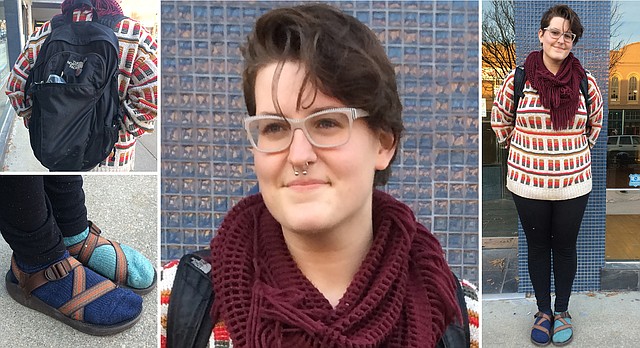 Friday, February 26, 2016
Name: Kayci Lineberger
Age: 21
Relationship status: Single — wonderfully.
Hometown: Shawnee, Okla.
Time in Lawrence: Working on my third year.
Occupation: Student and music director at KJHK.
Dream job: A publisher of new poets that don't have a foot in the door for large publishers; also a high school English teacher.
What were you doing when scouted? Going to get $2 margs — it's National Margarita Day (with John Dillingham)!
Describe your style: A mix of sultry and baglady. Comfortable as crap, but also sometimes you've just gotta be sexy, so a mix of both.
Fashion trends you love: Socks and sandals. It's happening, it's here. I love the man bun — it's great.
Fashion trends you hate: Uggs. Golf clothing in general, like frat style — I don't like polos that much. I guess anything that's considered preppy. … But maybe not.
Fashion influences: Mostly the people in this town give me lots of ideas; the clearance racks in stores all over town; Goodwill is my main person who dresses me, so all of the people who have willingly donated to Goodwill.
What are your favorite and least favorite things about Lawrence? Community; the music scene in Lawrence; the people; all of my relationships I have here — it makes it hard to leave when you want to leave. Least favorite thing… I don't like people who aren't realistic about how small a town it is. I think lots of people like to live here and look at it with a skewed perspective of it being a huge metropolis; feeling anonymous here — it's not.
Tattoos or piercings: Septum piercing. I almost impulse-got a tattoo with my student loans.
What's your spirit animal? I'm a blue whale. I am curvaceous and magnificent and just swimmin' around.
Whom do people say you look like? I have a lot of people I wish I looked like… I wish I looked like Matthew Gray Gubler. He's a writer and the geek on "Criminal Minds" — the beautiful man. I think I have his jawline.
Tell us a secret: When I was 4 years old, I squeezed my cat so hard when I was hugging it that he pooped.
More like this story on Lawrence.com