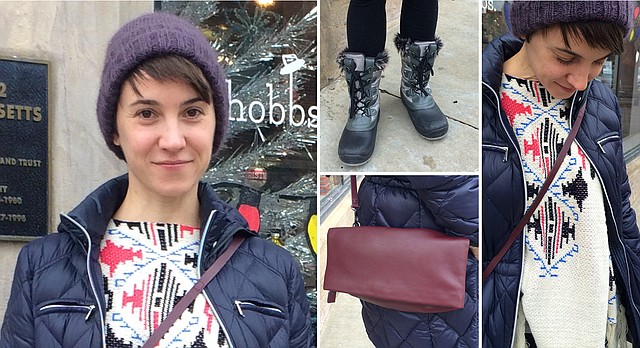 Name: Amy Quirin
Age: 34
Hometown: Lived in Lawrence until a year and a half ago; then moved to Heredia, Costa Rica
Occupation: Teacher
Dream job: Fantasy writer
What were you doing when scouted? Finishing up at Rudy's
Describe your style: Comfortable, casual, ethnic — today, anyway.
Fashion trends you love: I like pretty much anything that is comfortable, for myself. I'm not very up on fashion trends, I guess. I like yoga clothes.
Fashion trends you hate: I don't like high heels very much. I'm pretty open, though — anything. Whatever people want to wear is fine with me.
Fashion influences: My friend Margie Hogue (of Lawrence); the Internet.
What are your favorite and least favorite things about Lawrence? My favorite things are all of the delicious foods that you can eat here; my least favorite thing? Everything is great — just the weather could be warmer right now.
Tattoos or piercings: No
What's your spirit animal? A cat. I admire their sleeping schedules.
Whom do people say you look like? My mom.
Tell us a secret: Stay on the bright side.
More like this story on Lawrence.com