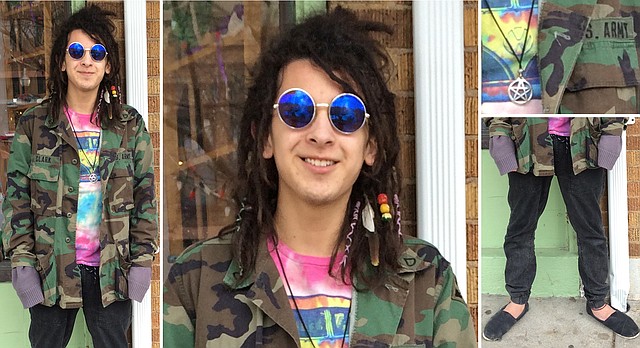 Name: Isi Castaneda
Age: 19
Hometown: Topeka
Time in Lawrence: A couple hours
Occupation: I am currently a server at a dinner theater.
Dream job: My dream job is in the production and cultivation of medical marijuana and hemp. I'm moving out-of-state to somewhere it's legal.
What were you doing when scouted? We had just left Love Garden.
Describe your style: My style I guess would just be kind of, like, 1960s, 1970s teenager; a lot of dull colors; a lot of band T-shirts, a lot of tie-dye.
Fashion trends you love: I don't really pay attention to a lot of things that are trending; I just kind of do my own little thing.
Fashion trends you hate: I'm sure there are some that I dislike, but for the most part, not really. I'm pretty open-minded.
Fashion influences: Mainly the 1960s and 1970s; a little bit of 1990s.
What are your favorite and least favorite things about Lawrence? My favorite thing about Lawrence is that it has a lot more to offer than Topeka, but I guess the one thing that I hate about it is that it's different and I'm not quite used to it yet, so I'm kind of at a disadvantage.
Tattoos or piercings: None
What's your spirit animal? I don't know what my actual spirit animal is, but if I were to feel drawn to an animal, it would probably be a buffalo. Physically, it's strong and courageous, and I just really like them.
Whom do people say you look like? People say Bob Marley, but that's just because of the dreadlocks. I don't really resemble him at all.
Tell us a secret: I have a really bad Dr Pepper problem. I'm an addict.
More like this story on Lawrence.com