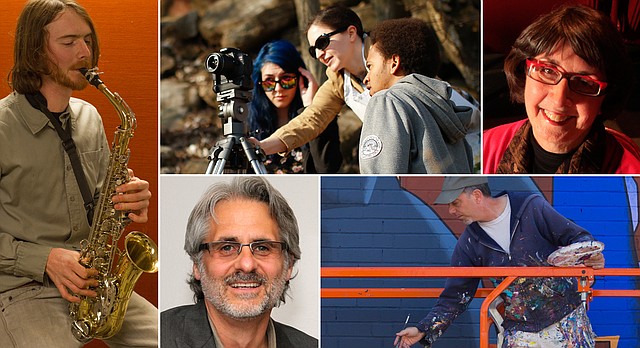 This time last year, the Journal-World reached out to various leaders in the Lawrence arts community to gauge their hopes and predictions for the new year. At the time, Lawrence was on the precipice of several major changes, including the hiring of a new director of arts and culture and the development of an arts corridor with the East Ninth Project.
With 2015 behind us, we checked in with some of those leaders (and one relatively new kid on the block) to reflect on the past year and gauge their thoughts on what's ahead.
---
Rolf Petermann, Whatever Forever Tapes
Rolf Petermann is a co-founder of Whatever Forever Tapes, a Lawrence DIY collective and music label that produces cassette tapes. Last year, the label settled in to its new home at SeedCo Studios, which relocated to a renovated industrial building at 720 E. Ninth St. in September 2014.
His observations on the Lawrence music scene: I am especially excited to watch/hear the younger Lawrence musicians owning their sets and releases while the more established Lawrence musicians get deeper into their craft. They are able to build their fan base and hone their studio skills with the support of Lawrence's expanding music-scene-infrastructure. The components of this infrastructure include KJHK, Love Garden, The Replay Lounge, DIY Venues (Decade Coffee, house shows, galleries), studios like (the one at the) Lawrence Public Library, SeedCo and other private studios, plus labels like Whatever Forever, Silly Goose Records and High Dive, to name a few.
Lawrence's reputation as a music/creative hub is growing regionally, as exemplified by the heavy-touring schedules of bands like Your Friend, Arc Flash, Psychic Heat, CS Luxem and Gnarly Davidson, to name the ones I'm most familiar with (there are many more). Many of these bands are also getting ready to release new full-length albums, a testament to their work ethic when they aren't touring.
His hopes for Whatever Forever: The Whatever Forever musicians are focused on expanding their regional influence through continued cassette and digital releases, as well as by collaborating with other regional labels and artists. We are also dedicated to nurturing and further exploring our local scene by playing new venues, hosting touring performers and reaching out to students at Haskell, Kansas University and Girls Rock. Furthermore, we hope to expand into vinyl and more multimedia projects in 2016.
---
Porter Arneill, City of Lawrence
After Lawrence's first director of arts and culture, Christina McClelland, unexpectedly left the post in December 2014, the city launched a search to fill the position. Porter Arneill, who formerly worked as the director/public art administrator of the Kansas City, Mo., Municipal Art Commission, took over the post in May. Arneill also serves as the city liaison to the Lawrence Cultural Arts Commission and in August began facilitation of Final Fridays. The Art Walk has been put on hiatus for December and January, though Arneill notes that artists can still host events — the city just won't be promoting Final Fridays officially during the holiday season.
On his hopes for Final Fridays: Honestly, I feel like I just got caught up on Final Fridays. If we "stop" Final Fridays tomorrow, it's pretty clear things wouldn't stop. They have a life of their own at this point. Right now, it's on my shoulders primarily to get it promoted. Does it need fixing? I don't know for sure if any (change) needs to occur. The Google map is giving me a sense that people are actively using it on Final Fridays — we're getting an average of 1,200 hits on that map on Final Fridays and the couple of days before. Obviously, there's a lot of activity.
On his hopes for new leadership at City Hall: The first thought, quite frankly, is I'm curious to see who our new city manager is and in what direction that person might take a leadership position at City Hall. I want to get that person up to speed … I think the cultural plan is high on my radar. We're working with Callahan Creek and a committee to figure out how to best market that plan and get the information out, including the implementation matrix and goals that are included in that report. How can we enhance and optimize things for the future? There's a lot of focus on downtown, which is terrific, but there's also the question of how we can reach out to the broader community. I feel pretty lucky that Artist Inc., the Free State Festival, the Lawrence Busker Festival and all these terrific things are already occurring and seem to be growing.
On his hopes for the East Ninth Project: At the last East Ninth Citizen Advisory Committee, Josh (Shelton, of the el dorado, inc. design team) presented two possible concept plans. Of those, it seems like things may be learning more toward a traditional approach. I'm very intrigued to see where Jarrett Mellenbruch's and James Woodfill's and Derek Porter's projects are heading, as well as the East Ninth Artists'. ... The whole thing is unfolding. We're in the process of finalizing a design with all the artists' aspects in it.
One last thing: I've been a member of Americans for the Arts for years now. Ironically, when I left Kansas City I lost track for a couple months. When I finally caught up, it came to my attention that Americans for the Arts is going to be implementing Art and Economic Prosperity 5 (the study measures the economic impact of the nonprofit arts and culture industry). It immediately occurred to me, given all the work with the cultural plan and all the work here related to economic development, one thing I see missing is hard data relating to arts and economic prosperity in Lawrence. My hope and intention is to make sure we're part of the research effort. That will be kicking off (this) year, as a matter of fact. The ball gets rolling in January and goes through March for the survey aspect. Then we keep working with that though 2016, and I think they plan to have their results in 2017.
---
Mary Doveton, Theatre Lawrence
Mary Doveton is the executive director of Theatre Lawrence, which moved to its new location at 4660 Bauer Farm Drive in 2013. In its first full year there, Theatre Lawrence's attendance increased by about 65 percent, Doveton told the Journal-World. Theatre Lawrence's first production of 2016, "Girls' Weekend," opens Jan. 22.
On her plans for Theatre Lawrence in the new year: At Theatre Lawrence, attendance remains strong, and we are especially pleased to be reaching family audiences with shows like "Disney's The Little Mermaid." We have been investing in some new lighting equipment and special effects to improve the quality of these shows, and audiences seem pleased. In the coming year, we will be experimenting with some new programming ideas for both kids and adults.
On her hopes for the Lawrence arts scene in the new year: The arts scene in Lawrence is burgeoning right now. We are so fortunate to have Porter Arneill as our new director of arts and culture. With his guidance, we can really build on all of the research and planning work that has been done throughout the city this past year. I am particularly looking forward to building on that work and finding opportunities to coordinate marketing and promotion with other organizations to better reach our entire community.
---
Dave Loewenstein, visual artist
Dave Loewenstein is a muralist, writer, printmaker and founding member of the Lawrence Percolator. In 2014, he was selected as a "cultural agent" to spearhead the U.S. Department of Arts and Culture in Lawrence. The national movement is a band of artists dedicated to cultivating social change through creativity. Last summer, Loewenstein launched the Kansas People's History Project, a statewide, multidisciplinary program that aims to reconnect citizens with important-yet-overlooked figures and events that have shaped Kansas' history.
Note: In lieu of revisiting last year's comments, Loewenstein has opted to share some of his hopes for the arts community that didn't make it into the original Future of Lawrence Arts story.

Encouraging Kansas artists to engage with our pressing social and political issues
At this challenging time for our state, I believe citizen artists can play a powerful role in helping to frame issues, support calls for social and economic justice, and shine a light on intolerance, corruption and greed. With such a wealth of talent here in Lawrence, I would be heartened to see more artists working in all media employing their skills and perspectives to address our common hopes and challenges. Let's put our collective skills to work. There's no lack of material, and we have precedents. Just think of how Langston Hughes, Grandma Layton and Kevin Willmott, to name a few, have used their work to address issues of the day.
An Artists in Schools program
Lawrence is perfectly situated to establish and support a citywide Artists in Schools program. These programs vary in their reach and focus, but most share a basic structure. Based within a nonprofit organization, state or city arts council, AIS programs serve as connectors or agents between professional artists and schools. After going through a rigorous application process, artists develop hands-on, interactive workshops that complement and enhance established curricula in science, math, history and other subjects. Teachers then choose the artists/programs that best fit with their plans.
As I wrote in the Journal-World a couple years ago, "A Lawrence Artist in Schools program would help keep talented young artists in town, boost our local economy by creating jobs, and most of all fuel the creative young minds that will soon become the heart and soul of our community — a place we all hope to embrace as a true city of the arts."
Implementation of our city's new Cultural Plan
In 2015, Lawrence went through the process of developing its first-ever cultural plan. But the plan is just that, a plan. Now it's our job to figure out how to evaluate and implement the research and observations the visiting planners left with us. I hope that we can look closely at how the city allocates its arts and culture resources, (including our percentage for art programs, LCAC artist grants, and the general fund, which recently has been tapped by arts organizations but isn't accessible to the majority of our cultural community) in order to develop a new, more equitable structure for supporting the myriad of cultural workers and artistic activities that may fly under the radar within our community.
Art supply reuse and exchange program
This is an idea with great benefits, not only for artists but also the environment, that I believe Lawrence would embrace and support. Simply put, local businesses give their extra, bound-for-the-landfill materials suitable for artists to an organization that makes them available for free or close to free. Many communities across the country, like the Scrap Exchange in Durham, N.C., are already doing it. I would love to see this happen and would be happy to partner with others like the Habitat ReStore and the city's new recycling program to think about how to make this a reality.
---
Marlo Angell
Marlo Angell is a filmmaker, writer and the digital media director at the Lawrence Arts Center. She also serves as the film curator for the Arts Center's Free State Festival and is a co-founder of Women of Lawrence Film, a collective of local female filmmakers who mentor youths.
On trends in the local filmmaking community: We certainly saw a spike in film submissions to the Free State Festival in 2015, not only from Lawrence filmmakers, but nationally as well. I think part of that is the increase in production, but another aspect is an increased awareness of the festival.
We've made some great strides this year in diversity in the field of Lawrence filmmaking with Women of Lawrence Film and filmmaker Kevin Willmott co-writing "Chi-raq" with Spike Lee. I hope that continues to flourish and we see even more stories emerging from all genders and various cultural and economic backgrounds. Since film is an expensive medium to practice with, sometimes it can feel like the storytelling comes from a position of privilege and the danger there is that it can lead to a homogenized viewpoint of the world. The more accessible we make the tools of our craft, the more empowering it will be to have cinematic experiences that not only entertain but have the ability to transform and inspire.
On her hopes for the Free State Festival: Free State Festival made huge leaps in programming in 2015 with guest artists such as George Clinton, Dennis Lehane and Tig Notaro. One of the goals I had for FSF2015 was to have some professional opportunities emerge from this confluence of local and national artists, and it has been truly gratifying to see actual lifelong connections be made. For example, musician Kliph Scurlock and satirist Barry Crimmins were each inspired by one another's work and continue to communicate about their respective projects. That's the kind of synergy you can't plan for. My job as a curator is to lay the groundwork for those opportunities and leave the magic for those late night post-festival conversations at The Bourgeois Pig. I can't wait to see what connections are made in FSF2016, as to me, that is the very heart and soul of the festival: bringing people together to exchange ideas.
On her hopes for the greater Lawrence art scene: In 2015, what I hoped for was greater intersection of art forms; (fewer) barriers between what makes one a visual artist, a performer, a filmmaker, etc., so there can be a greater cross-pollination of ideas. I finished my first full-length play this year, and I'm really proud of making that leap because it wasn't easy. I think sometimes we put ourselves in our own box of skill sets and we get too comfortable. The art that tends to move me is the stuff that has an element of danger or risk to it. I loved seeing Arts Center visiting artist Valerie Campos come here from Mexico this year and make an animated film with filmmaker Derek Sellens. That was the perfect example of each artist trying something totally new to them. Derek, who primarily works in visual effects, stepped in the world of visual art, and Valerie, who had never made a film before, just dove right in. And something truly beautiful was made. That's what I'd like to see even more of in 2016.