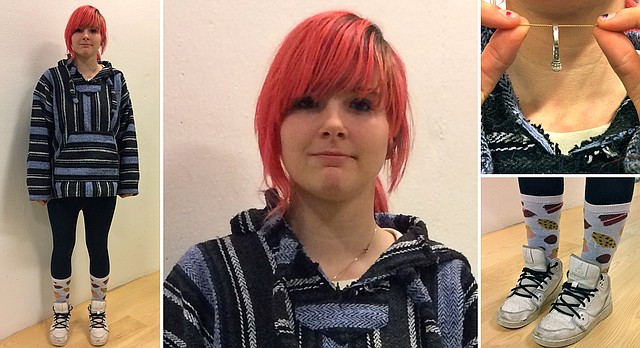 Name: Nikki Collins
Age: 14
Relationship status: Taken
Hometown: Lawrence
Time in Lawrence: Eight years
Occupation: Eighth-grader
Dream job: Honestly, I would be a teacher.
What were you doing when scouted? Just looking out the window.
Describe your style: Unique; I like all sorts of colors, like rainbow colors… that's pretty much it.
Fashion trends you love: Fashion is just one of my favorite things to do. I like to dress up and be weird.
Fashion trends you hate: None
Fashion influences: Just being creative.
What are your favorite and least favorite things about Lawrence? Actually, I like everything about Lawrence. It's a pretty place, and all the lights and stuff just makes it perfect.
Tattoos or piercings: I did have my nose done, but that's it. I'm gonna get it redone soon.
What's your spirit animal? I don't know… I really don't. That's just one of my things.
Whom do people say you look like? Since my hair color is a different color every day, they say I look like Nikki Minaj, and since my name's Nikki, that's what they call me.
Tell us a secret: One of my secrets is I really like Justin Bieber for some reason. He's just perfect.
More like this story on Lawrence.com