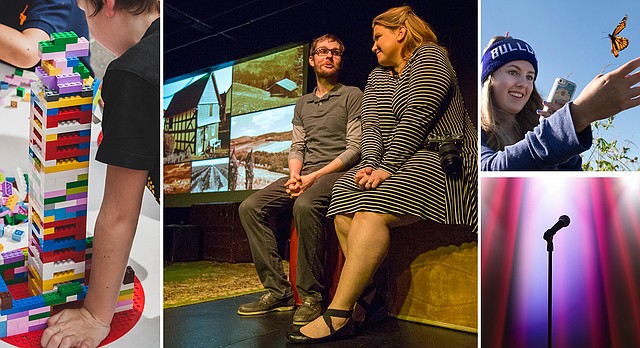 The Lawrence social scene is still taking things slow after the holidays, it appears, but there's still plenty to keep theatre lovers (plus fans of birds and LEGO toys, natch) busy this weekend.
https://www.facebook.com/lawrencearts...;
Ad Astra Theatre Ensemble: "Visions of Right"
7 p.m. Friday and Saturday, Lawrence Arts Center, 940 New Hampshire St.
Shootings, gay rights, anti-Semitism and other timely themes converge in this Kansas-centric drama, penned by Topeka playwright Marcia Cebulska.
Set in Topeka, "Visions of Right" tells the tale of a successful New York photographer who moves back to her home state of Kansas and becomes the subject of a protest by a Westboro Baptist Church-like organization.
This weekend marks the Lawrence premiere of the play, which opened in Topeka last fall.
Tickets cost $15 for adults, $12.50 for seniors and $10 for students. They can be purchased at www.lawrenceartscenter.org.
Jayhawk Audubon Society Winter Bird Seed, Book and Feeder Sale
10 a.m. to 1 p.m. Saturday, Lawrence Senior Center, 745 Vermont St.
Avian enthusiasts, rejoice: The Jayhawk Audubon Society's annual winter sale returns this weekend, offering a chance to stock up on bird seed, feeders and books.
As in years past, proceeds support Jayhawk Audubon Society local education efforts, including Monarch Watch and Eagles Day, and conservation projects.
Open auditions for "Chitty Chitty Bang Bang" and "La Fille Mal Gardee"
10 a.m. Saturday, Lawrence Arts Center, 940 New Hampshire St.
Performers of all ages are welcome at this weekend's open auditions for the Lawrence Arts Center's upcoming productions of "Chitty Chitty Bang Bang" and "La Fille Mal Gardee."
The whimsical musical about the adventures of a magical car (brace yourselves: the always-creepy, nightmare-inducing Child Catcher from the 1968 movie makes an appearance in the stage version, too) and the classic, comedic ballet open Feb. 19 and March 11, respectively.
Auditions for both productions will take place throughout the morning, beginning at 10 a.m., and into the early afternoon.
For more information, including how to sign up for an audition and what that entails, call 843-2787.
LEGO Club
3:30 to 4:30 p.m. Saturday, Lawrence Public Library, 707 Vermont St.
"Everything is awesome," to borrow a line from the theme song of 2014's hit "The Lego Movie," at the Lawrence Public Library's LEGO Club.
Bring the kiddos (this one's for ages 5-11) for an afternoon of fun and a little rudimentary engineering at the library. Participants can opt to build something based on the yet-to-be-determined theme of the day, or, you know, create whatever sprouts from their young, nimble imaginations.
Call 843-3833 to register.