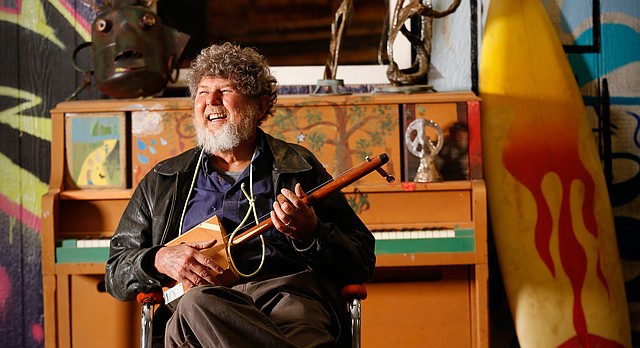 Tuesday, January 12, 2016
Ask Ernie Cummings about his late friend George Paley, and he'll offer up the old Ripple Effect, in which one action causes a series of events to unfold incrementally.
"The analogy would be those circles," Cummings said, reminiscing about the longtime businessman and artist who died Sunday after a 14-year battle with prostate cancer. "You know, throw a pebble in the pond and all those waves go out? That would be George."
Paley, 67, owned several properties downtown (nearly a dozen, by his own count in a 2014 Journal-World article) and many more across Lawrence. But Paley, who was born to a farming family in rural Connecticut and moved to Lawrence in 1972, always had an artistic mind, those close to him said, particularly later in life.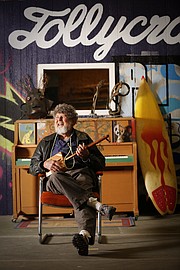 Paley wasn't afraid to take risks in business, recalled Cummings — the communications major, after graduating from University of Texas at Austin, arrived in Lawrence with a van full of used blue jeans that he would later sell at his first store, Bokonon, in east Lawrence — but he was never reckless.
Paley honored his commitments, saw the value in the unknown (the "adventurous" businessman enjoyed traveling and was a certified wind-surfing instructor) and was enthusiastic about collaboration, said Cummings, who owns Kizer Cummings Jewelers on Massachusetts Street.
"He was one of a kind," Cummings said. "He accumulated a circle of friends that was really circles upon circles upon circles upon circles."
Eric Kirkendall agrees. Then a "poor college student," Kirkendall first met Paley while perusing the jeans and vintage military jackets at Bokonon.
They drifted apart over the years, but, after Kirkendall's eventual return to Lawrence, became closer than ever. The two were part of a close-knit group of arts supporters that helped establish Lawrence's Final Friday art walks and the Lawrence Creates Makerspace, where Kirkendall still serves as director.
"I think George had a vision … a sense of vision, perhaps, that few other people had," Kirkendall said. "He was, for example, the first person I ever heard say that Lawrence should be the Santa Fe of the Midwest. He not only said that, but he believed we could make it happen."
Paley was both a dreamer and a doer. In the last decade of his life, he lent his skills and reputation as a businessman to the cause — donating vacant space downtown to help Final Fridays get off the ground, opening his own gallery and "creative hub," Art Emergency, in the Warehouse Arts District — but also became an artist himself, creating large-scale metal sculptures out of found objects.

Like his business ventures before it, Paley's art career didn't take long to take off. His work (Paley spent 10 straight semesters auditing sculpture classes at Kansas University) started selling in galleries, and, in 2013, was featured in Washburn University's Outdoor Sculpture Exhibition.
Today, eight of Paley's sculptures can be found near the entrance to the oncology unit at Lawrence Memorial Hospital, his wife of 39 years, Judy, proudly notes. Of all his accomplishments in life, she speculates, George was most proud of his artwork.
"He saw art in every piece of junk he passed by," Judy said of her late husband, with whom she shared three sons and two grandchildren. "I think it made him calm."
Paley's giant junk pile (the house-sized heap contains everything from old farm equipment and car parts to steel rods and screwdrivers) still rests on the family's property west of Lawrence, a reminder of his innovative spirit and boundless imagination.
He died at home surrounded by family. It had been a long time coming, but the death was something of a shock to Judy — part of her still expects George to walk through the door and pull her outside to check out his latest creation, she said.
Experimental treatments had kept Paley going all those years, and even in his final months, he still held out hope for a trip to Australia to visit his middle son, Austin.
That trip didn't happen, but Paley's enthusiasm for life — and adventure — remained.

"I think I'll miss his sense of wonderment of the world, which I think is what kept him creative. He was just curious about everything," Judy said. "It never faded, not until the last nanosecond."
A celebration of life for George Paley will be held from 4 p.m. to 8 p.m. Sunday at the Cider Gallery, 810 Pennsylvania St.