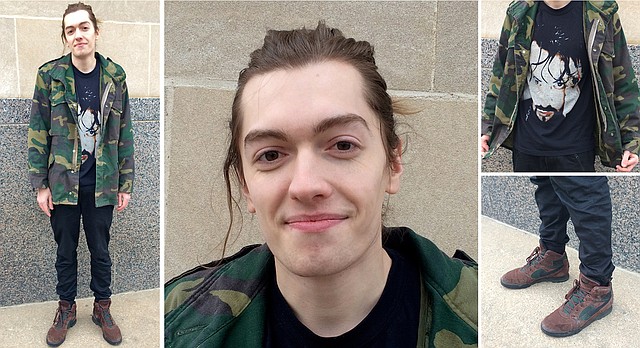 Name: Brogan Sievers
Age: 21
Relationship status: Single
Hometown: Lawrence
Time in Lawrence: My whole life
Occupation: I work at Rudy's Pizzeria.
Dream job: To be a graphic designer.
What were you doing when scouted? Hanging up flyers for Mammoth Productions, a local production company.
Describe your style: I thrift most of what I wear; I try to combine a little bit of a thrift look with something a little more modern, a little more streetcar; I try to have both. A nice balance.
Fashion trends you love: Right now, I'm really into joggers. I think those are good. I like that long hair is coming back in right now; I'm tired of the undercut, and I'm glad that's dying out.
Fashion trends you hate: I guess I'd say the undercut.
Fashion influences: Pictures of '80s goth musicians; I'm really into Robert Smith from The Cure, Fugazi, and I guess I'd say probably Kanye (West).
What are your favorite and least favorite things about Lawrence? I love the community, and I love how creative and open everything is regarding art. I live in East Lawrence so I'm really into that whole communal art vibe. I'm tired of the Lawrence weirdos — the dudes who are taking advantage of the weird town to make it cool that they're really weird.
Tattoos or piercings: None
What's your spirit animal? I like bats, I like armadillos, I like things with big ears. Armadillos roll into balls; I feel like that says something about me, maybe.
Whom do people say you look like? I've gotten Robert Pattinson in high school.
Tell us a secret: Don't try too hard.
More like this story on Lawrence.com