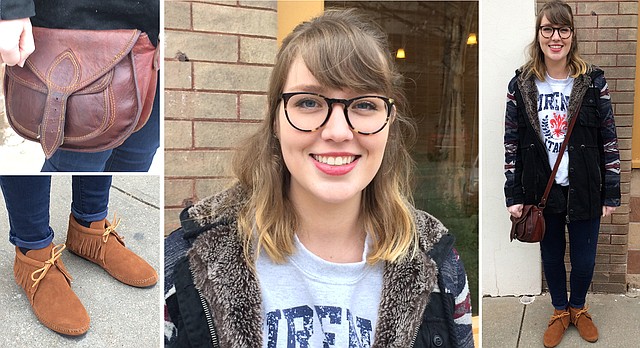 Name: Katelyn Gilland
Age: 19
Relationship status: Single
Hometown: Kansas City, Mo.
Time in Lawrence: Just visiting for the day
Occupation: I work at a restaurant.
Dream job: Illustrator
What were you doing when scouted? Paying for parking.
Describe your style: Hip and comfy; and I think I aspire to be more punk, but I just can't.
Fashion trends you love: Glasses aren't a fashion trend, but I like glasses. I think glasses are cool. And I like piercings — is that a trend? And sweaters; that's about it.
Fashion trends you hate: Sparkly things. Don't like the sparkles.
Fashion influences: I think I have some stylish friends. I think that's a part of why I dress the way I do. I feel like there's a lot of celebrities that I like, but I don't think I dress the same as them.
What are your favorite and least favorite things about Lawrence? I guess I don't really know much about Lawrence. I think (Massachusetts Street) is cute; there's nice little restaurants, second-hand stores, stuff like that. (I dislike) paying the tolls.
Tattoos or piercings: Five on left ear, two on right; nose piercing
What's your spirit animal? I like bears … I don't know. I like them, that's why. Bears are my favorite.
Whom do people say you look like? When my hair was shorter, I think the only thing I got was Molly Ringwald. I had short hair and people said I looked like her in "Sixteen Candles." And when I had a pixie cut, people said Ellen Page.
Tell us a secret: A second-grader punched me in the face when I was in third grade; that's not a secret, that's just something that happened to me. But it's kind of funny.