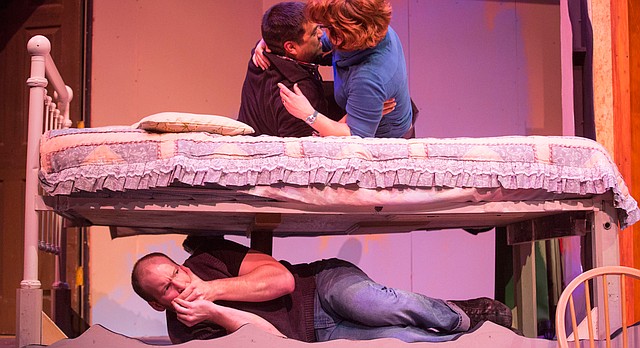 Around the time of her 50th birthday a few years ago, veteran actress Karen Schaeffer, fresh on the heels of a regional acting award for her role in a Des Moines Community Playhouse production, reviewed her options for the upcoming season.
Out of the three major theaters in the Des Moines area, she discovered, there wasn't much, if anything, for women in her age group — "not the kind of women (she) recognized," anyway. So Schaeffer wrote a play of her own, a twisted, bawdy farce called "Girls' Weekend."
After a successful launch just over a year ago at the Des Moines Community Playhouse, Schaeffer's romantic comedy about a book club meeting gone awry is now slated to make its Kansas debut Friday at Theatre Lawrence, 4660 Bauer Farm Dr.
"I set out to write a play about the women I know. My neighbors, women in the cubicle across from me, women in the grocery store, my friends — all these beautiful, vibrant women," Schaeffer says. "And I just wanted to honor them and respect them the best way I could. I made them as real as possible."
The play begins with the promise of a ladies-only getaway to a cabin in the Minnesota woods. Yet, as husbands, boyfriends and assorted men infiltrate the cabin as the snow piles up outside, the façade of the book club begins to crack and shenanigans ensue.
"Girls' Weekend" is a farce, after all. Which can be tricky to pull off, says Doug Weaver, who's directing the show at Theatre Lawrence.
"You've got to take real, believable characters that we all know and put them into a situation that can, with one or two wrong moves, multiply itself into 6,000 little problems," Weaver says. "It's not just plot-heavy or character-heavy or theme-heavy — it's all of those things, and to write that combination of things is difficult. When you find a play that does all those things so well, it just tickles you."
That means plenty of oddball characters, plot twists, near misses, multiple exits (six in Theatre Lawrence's production, plus one oft-visited closet), and, perhaps most importantly, opportunities for the play's actresses to show off their physical-comedy chops. Of women, especially women of a certain age, Schaeffer says, "we can still fall down and roll over couches and do all the things we were doing in our 20s and 30s."
It's a departure from the limited, sometimes "stupid" female roles that usually populate the farce genre, says Schaeffer, who wanted her characters to initiate the action instead of merely allowing the action to happen to, on and around them.
And while the men fill supporting roles, Schaeffer avoids simply flipping the script, Weaver says.
"Easily, the four guys could fall into the category of the lovable bumpkins who are just plot devices," he says. "But the truth is, the playwright was smart enough to give these four guys unique qualities. They're not as fleshed out on the page as the four women, but there's enough there that four really good actors can make them seem like real human beings caught up in a goofy mess."
Even when that goofy mess in question entails vomit, a moose head, a glaucoma-inflicted Chihuahua in need of "herbal" medication (i.e., marijuana), and gags about basal thermometers and ovulation.
Like Schaeffer says, these characters are real.
"I wanted to portray actual private conversations that women have together. We do talk about our sex lives, or the difficulties of getting pregnant," she says. "We're very open when we're around other women. It's only when you bring men into the picture that we start not talking about those things."
That tendency to discourage or censor talk of women's bodies is "changing in society," Schaeffer says. Her grown sons, both in their 20s, are more comfortable engaging in those conversations with the women in their lives than perhaps Schaeffer herself is, she says with a laugh.
Overwhelmingly, audiences have embraced "Girls' Weekend," which will make its third staging (the second was in South Dakota last fall) at Theatre Lawrence. Not bad for a first-time playwright.
Right now, the goal is to produce the play in as many locations outside of Des Moines as possible, which Schaeffer hopes will attract publishers. She also has plans to attend opening weekend for the show at Theatre Lawrence.
Quietly, without telling her husband, Schaeffer penned the first draft of "Girls' Weekend" in just two weeks. When she showed Maxwell Schaeffer the script, he told her, "This is actually good. You need to change some things, but you've got a good idea here."
The couple — Schaeffer considers their marriage a true partnership — then embarked on a two-year process of table reads and revisions to "get it to the place it's at right now." Since then, she's written two more full-length comedies and is slated to finish work on a joint effort that she calls "High School Acapella Zombie Musical" (think "Pitch Perfect" meets "The Walking Dead," Schaeffer says) this summer, among other projects.
In the meantime, Schaeffer still holds down her day job as an administrative assistant at Iowa Public Television. "Real life" fuels her creativity, she says.
The 54-year-old always loved theater growing up but never studied it in school, having dropped out of college after some ill-conceived dabbling in accounting and computer programming, she says. After marrying and bringing her children into the world, Schaeffer returned to school, this time graduating with a degree in business management.
"After I went back to college when I was 40, I graduated and didn't do anything for a while, and I told my husband, 'You know what I miss about college? I miss the writing and the research,'" Schaeffer recalls. "He's the one who said, 'It doesn't have to stop.'"