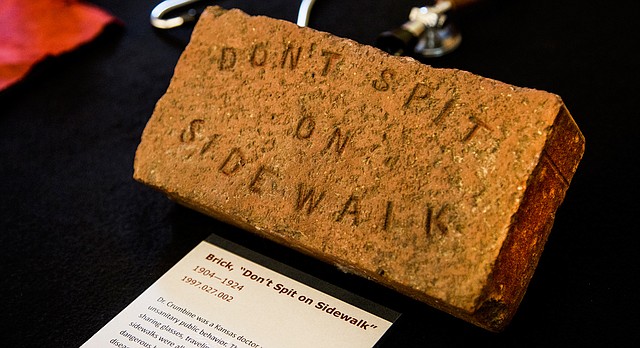 Around the turn of the century, when Lawrence was still very young, the city's pavement was marked every few paces with a simple — yet, perhaps for those days, somewhat bold in its language — message to pedestrians.
"DON'T SPIT ON SIDEWALK."
Bricks stamped with the phrase were part of an early public-health campaign led by Dodge City physician Samuel Crumbine, who came up with the idea after witnessing tuberculosis patients spitting on the floor of a train.
The slogan — which by some estimates was, at one point, imprinted onto every fourth brick manufactured in Kansas — reportedly helped to ignite a similar campaign nationwide.
As for the bricks' effectiveness in Lawrence specifically, Watkins Museum of History curator Brittany Keegan admits she's not sure.
"I would hope it would just be a nice reminder to not spit on the sidewalk," she says, looking down at one such brick through a glass case on the museum's second floor. "But, who knows?"
The "Don't Spit" brick is one of nearly two-dozen artifacts and photographs on display in "Remedies and Memories: Changing Medicine in Lawrence." Slated to open Friday, the exhibit spans nearly 100 years, cataloging Lawrence's early days up until the medical advances of the 20th century's second half.
If you go
What: "Remedies and Memories" opening
When: 5 to 8 p.m. Friday
Where: Watkins Museum of History, 1047 Massachusetts St.
Cost: Admittance is free. Nurses from Lawrence Memorial Hospital will also be on hand to perform free blood-pressure screenings during the opening.
"We definitely want people to think about how medicine and access to medicine has changed over time, and the idea of public health as we think about it today," Keegan says.
In Lawrence and other "western" communities in the decades immediately following the Civil War, access to quality health care was sparse. Until the turn of the 20th century, the town boasted fewer than 10 physicians and zero hospitals, the closest being Topeka and Kansas City facilities.
Families called on doctors only for the most serious of ailments, instead turning to home remedies of varying effectiveness. Despite the strong support for temperance in Kansas, many early remedies used alcohol and other intoxicants as key ingredients — for both adults and children.
Among the items in the Watkins Museum exhibit: a now-empty bottle that at one point was sold — legally — with cocaine inside it. "One of the things people always get a kick out of is the cocaine bottle," Keegan says of the oft-displayed piece.
In 1900, Americans could reportedly purchase cocaine from the pharmacy, for about 25 cents a gram.
"When you think about the home remedies for things like sore throat and cold, one of the things they're doing is basically making a syrup to coat the throat," Keegan says. "You can see why Coca Cola became known for that."
And yet, Lawrence's isolated location and lack of health care providers, in some ways, "loosened up the conventions" that had barred some from pursuing medicine back East, she says.
The West needed doctors, and so doctors came.
Lucy Hobbs Taylor, the country's first licensed female dentist, arrived in Lawrence in 1867, a year after earning her dentistry degree and several years of private apprenticeships and operating her own practice. Dr. Elizabeth Avery practiced medicine in her clinic on the second floor of 841 Massachusetts St. in the 1870s, and served as an officer in the Kansas Homeopathic Society. And Dr. Rachel Tenney, along with her husband Dr. A.D. Tenney, ran the Hygean House in the 1000 block of Massachusetts St., where she specialized in women's health care and publicly advocated for women's suffrage.
The frontier wasn't as kind to African-Americans in the medical field, though by the early 1900s, Lawrence boasted a handful of downtown practices run by black doctors, including a Dr. John H. Young, a Dr. Joseph Kenner and a Dr. Frederick Harvey.
Harvey, it seemed, was the man Lawrencians would call in a crisis. Among his valiant acts: saving a man crushed by an elevator at the newspaper office, treating several gun and knife wounds, providing homes for orphaned African-American children, and publicly advocating school integration as early as 1909.
Perhaps the biggest "hallmark of change" within the medical community arrived in 1921, Keegan says, with the opening of Lawrence Memorial Hospital — the town's first public facility of its kind. In the early years of the 20th century, a handful of small, private hospitals were tasked with treating the town's residents, though these facilities had the ability to turn away patients based on race and economic status.
Helped in part by funds originally raised for the Red Cross and by support from Elizabeth Miller Watkins, whose donations also built the first hospital (now known as the Watkins Student Health Center and housed in a different building) on the Kansas University campus, LMH expanded in 1929 and again 1937, thanks to Watkins' financial support.
Finally, Keegan says, Lawrence had a "public place where people could go and where health mattered."
Even in 2016, with an increased public awareness of disease and sanitation, people are still spitting on the sidewalk. Keegan concedes that. But nearly 100 years ago, during the 1918 influenza pandemic that resulted in up to 100 million deaths worldwide, folks were treating the flu with aspirin, she says.

(Theories have emerged in recent years that claim aspirin poisoning, ironically, contributed significantly to the fatalities.)
"You just think about how different the world would have been if your only medication is aspirin, or if you're not even aware of the kind of vitamins you need — how frightening that is," Keegan says. "Or how interesting these advancements become."