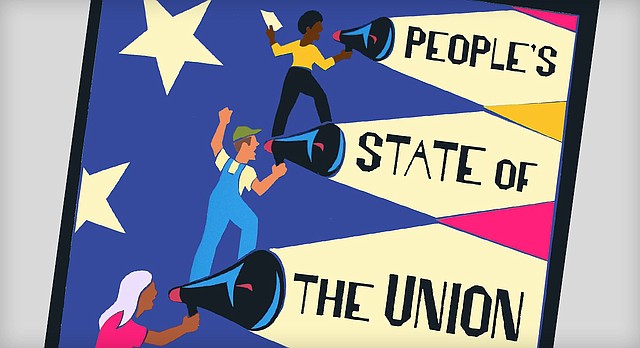 Wednesday, January 27, 2016
The Lawrence branch of the U.S. Department of Arts and Culture will host its second annual People's State of the Union Sunday at the Lawrence Public Library, 707 Vermont St.
Slated for 4 p.m. to 6 p.m. in the library's auditorium, the event is an invitation for citizens to supplement the president's State of the Union address with their own experiences. The Department of Arts and Culture is not an official government agency, but "an act of collective imagination aimed at sparking creative change."
During the People's State of the Union, participants will be asked to take part in a story circle, each sharing a three-minute personal story relating to three pre-imagined prompts: "Share a story you think the next President/local government absolutely needs to hear, "Share a story about something you have experienced that gave you an insight into the state of our union/ community" and "Share a story about a time you felt a sense of belonging — or the opposite —to this nation/community."
Stories from Sunday's event and similar gatherings across the country will be posted online, creating inspiration for a group of poets to create the 2016 Poetic Address to the Nation, which will be performed and livecast in February. For more information, visit www.facebook.com/imagininglawrence.