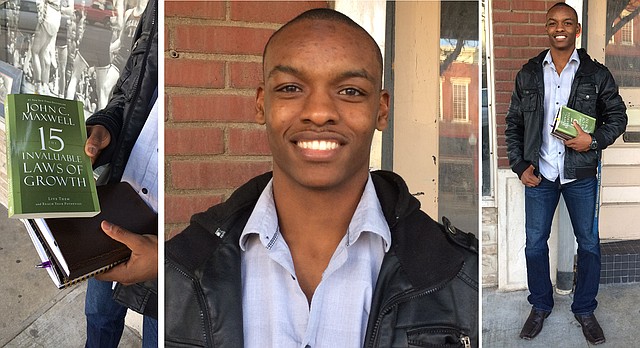 Name: Cedric Vinson
Age: 21
Hometown: Topeka, currently living in Overland Park
Time in Lawrence: About two hours
Occupation: Works at a marketing firm
Dream job: I don't have a dream job.
What were you doing when scouted? Walking around until I have a meeting with some business students.
Describe your style: Professional, classy, aggressive.
Fashion trends you love: I like to dress up; generally I wear a suit or vest; always a button-up, collared shirt; dress shoes, always; nice jeans or slacks.
Fashion trends you hate: Unclassy dressing. A dude walked by me with just a plain T-shirt… I just hate "average."
Fashion influences: Generally for me, personally, it's just a professional look. I always like to be presented in a professional manner.
What are your favorite and least favorite things about Lawrence? I don't know too much about Lawrence; I like how it's a college town and there's a lot of college students. My least favorite? Probably the drugs and alcohol.
Tattoos or piercings: None
What's your spirit animal? A lion because he's mighty within, the king of the jungle, and doesn't fear anything or anyone.
Whom do people say you look like? I've gotten Denzel a few times.
Tell us a secret: Measurement is the first step that leads to control and eventually to improvement.
More like this story on Lawrence.com