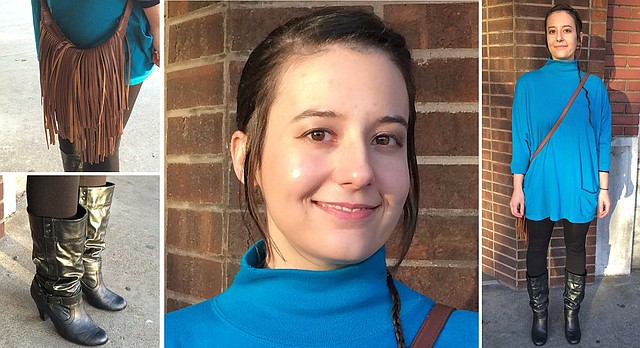 Name: Raven Milam
Age: 26
Hometown: Horton
Time in Lawrence: My brother lives here, so I visit often and I'm very familiar with the community.
Occupation: Master's in Art Therapy student at Emporia State University
Dream job: Art therapist and professional artist
What were you doing when scouted? Heading back to hang out with my brother for his birthday, which was this week. We were talking about David Bowie.
Describe your style: I'm very eclectic, and I go for what's not usual. David Bowie is one of my heroes and I take a lot from him artistically, and how I kind of present myself.
Fashion trends you love: I love chic, and also a lot of pencil skirts. I love lots of colors.
Fashion trends you hate: Wearing pajama pants to go out everywhere.
Fashion influences: David Bowie; I really take a lot from '80's fashion. I enjoy that time period a lot; pop art.
What are your favorite and least favorite things about Lawrence? I love the art community and just the way (Lawrence) has such a sense of community overall. Things I hate about Lawrence? Maybe that there's not a lot of parking, but I like walking so that makes up for it.
Tattoos or piercings: Ears pierced; I'm thinking about getting a tattoo in the future.
What's your spirit animal? I have quite a few, but I feel very connected with the great blue heron. It has a very grounded experience but yet very graceful and beautiful.
Whom do people say you look like? Someone told me the actress who was in the old "Wuthering Heights."
Tell us a secret: My secret to life is just to make the art that you wanna make, and really love it and enjoy it.
More like this story on Lawrence.com