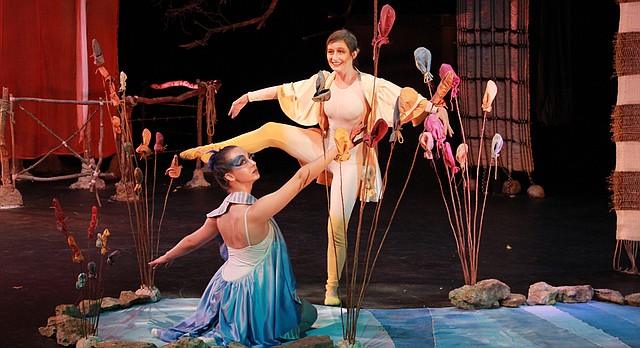 Kids (and kids at heart) will have plenty to do in Lawrence this weekend, with "Peter and the Wolf," a Read Across Lawrence pizza party and kiddie karaoke all on the table. Also, a Dole Institute lecture on the unfulfilled aspirations of 19th century politicians, for history buffs young (there have to be a few of them out there) and old.
---
"Peter and the Wolf"
Various times Friday through Sunday, Lawrence Arts Center, 940 New Hampshire St.
This staging by the Lawrence Arts Center re-imagines the 1936 fairytale as an original modern dance, led by Arts Center dance artist-in-residence and choreographer Eleanor Goudie-Averill.
Showtimes are 7 p.m. Friday, 3 and 7 p.m. Saturday, and 3 p.m. Sunday.
Tickets cost $21 for adults, $18 for seniors and $10 for students and children. They can be purchased at www.lawrenceartscenter.org or by calling 843-2787.
---
Read Across Lawrence Kids' Pizza Party Kickoff!
2 to 3 p.m. Saturday, Lawrence Public Library, 707 Vermont St.
This year's Read Across Lawrence for Kids "blasts off" (the theme is "Out of This World," i.e., space stuff) with a pizza party at the library. Young readers can snag free copies of Read Across Lawrence selection "The True Meaning of Smekday" by Adam Rex, learn about February's intergalactic programming at the library and add an artifact to the library's "Smekday" time capsule, all while munching on pizza.
For more information, including a complete schedule of Read Across Lawrence activities, visit www.lawrence.lib.ks.us.
---
Kid Karaoke
12 to 3 p.m. Sunday, Frank's North Star Tavern, 508 Locust St.
Exactly what it sounds like. Round up the kiddos for an afternoon of karaoke at Frank's, where parents are encouraged to sit back, relax and enjoy a libation or two (perhaps a bloody mary, Frank's suggests) while the children belt it out to their favorite tunes.
Also, staffers at Frank's will be using YouTube to filter out "anything inappropriate," naturally.
---
"They Also Ran: America's Would-Be Presidents (The 19th Century)"
4 to 5 p.m. Sunday, Robert J. Dole Institute of Politics, 2350 Petefish Drive
Sunday kicks off the Dole Institute's four-part series on the politicians who were nominated to America's highest office but never elected, exploring the careers of these often-overlooked figures and the reasons behind their losses.
Hosted by presidential historian and former Dole Institute director Richard Norton Smith, the first session examines the three men who ran for president a combined nine times in the 19th century without ever cinching the title: Henry Clay, James G. Blaine and William Jennings Bryan.
The lecture series is free and open to the public. For more information, including a complete schedule of events, visit www.doleinstitute.org.
---