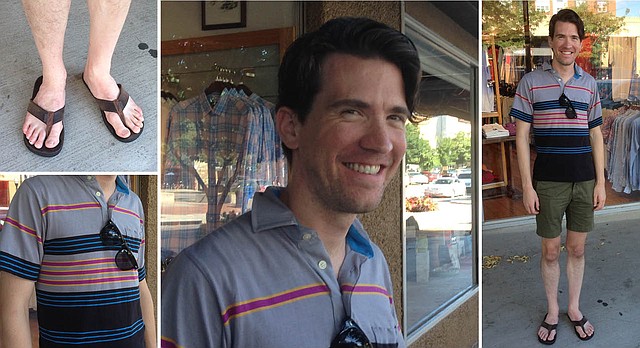 Name: Robert McDonald
Age: 29
Relationship status: Engaged
Hometown: Austin
Time in Lawrence: Almost exactly one year.
Occupation: I currently teach at KU in the communication studies department.
Dream job: Professor at KU.
Describe your style: I'm a skinny guy, so I'd say "sleek." It's weird, because I don't think what I'm wearing right now is indicative of my style. This shirt is my grandfather's, and I've had it since my grandmother bequeathed it to me. So I think it's kind of neat that me and my grandfather have similar taste in polo shirts.
Fashion trends you love: Euro-modern suits. I'm getting married in two weeks, and I'm going to be wearing what they told me is a Euro-modern suit.
Fashion trends you hate: Mumford & Sons. Like, porkpie hats and mandolins. But I do like suspenders.
Fashion influences: If I mentioned people, they wouldn't be famous. Like my grandfather. That's the problem.
Favorite thing about Lawrence: It's going to sound like I'm sucking up, but I love the Lawrence Journal-World. Alchemy Coffee and Liberty Hall, too.
Least favorite thing about Lawrence: Let's rephrase that as "what can Lawrence be improved by?" I would love an Alamo Draft House here... Maybe it's because we've only been here for a year, but I don't really have gripes yet.
Whom do people say you look like? Billy Crudup.
Tell us a secret: I got my Ph.D. from UNC, so I'm frequently afraid of alienating people here because of the basketball rivalry.
More like this story on Lawrence.com