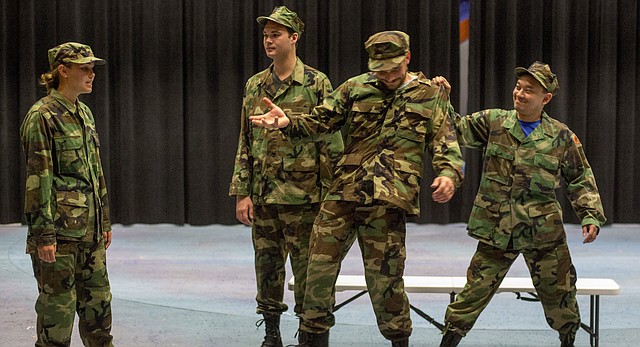 Years ago, long before the congressional debate over requiring women to register for the draft made headlines and sparked national debate earlier this summer, Dean Bevan was mulling over a more fundamental question.
"Do you think women ought to be in the Army?" It was a query posed to him by another man in Bevan's Army Reserve unit.
"And I said, 'I don't know,'" Bevan, now long retired from military service, recalls of the encounter. "And I still don't know."
Which is why he wrote a play about it. Bevan's "April in Iraq," about an altruistic young woman who joins the Army Corps of Engineers to make a difference in the war-torn country only to discover a much different reality once on the ground, is one of six 10-minute and one-act pieces written by the Lawrence playwright to be performed Friday and Saturday at Theatre Lawrence, 4660 Bauer Farm Drive.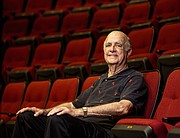 "An Evening of Dean Bevan's Plays," as it's being called, will be staged at 7:30 p.m. both nights.
For Bevan, who only started writing plays after retiring from his longtime teaching position at Baker University in 2000, theater is a way of working over "in my own mind" the sort of hot-button political and social questions that everyone else seems to have a definitive answer for. He's tackled several in his career so far — abortion, our resistance (well, some of us, anyway) to cultural shifts, consumerism in the age of big-box superstores — but prefers not to give out answers. He doesn't have any, he insists.
"It's been fascinating," Bevan says of his late-in-life success as a playwright. "I send my plays out all over the country. You send them out and forget that you've sent them, because it's going to be at least six months before you hear anything, but I've had a lot of acceptances."
So far, that list includes stagings in New York City, Seattle, San Diego, San Francisco and more than a dozen cities in between — "I'm still waiting for one (to be produced) out of the country," Bevan says, "But that hasn't happened yet."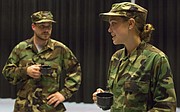 Over the years, he's acted in 34 plays and musicals, directed six and penned 21, in that time generating something of a following in the Lawrence theatrical scene, thanks to his frequent gigs with Kansas University Theatre, the independent EMU Theatre company (one of his earliest supporters, Bevan proudly notes) and Theatre Lawrence, for which he helped lead fundraising efforts to build a new, state-of-the-art location in 2013. He was president of Theatre Lawrence's board of directors at the time, and still serves on the board now, as well as on Theatre Lawrence's play-selection committee.
Bevan taught creative writing at Baker University from 1969 to 2000, publishing a novel and scribing unpublished poems and short stories in his free time while also serving in the Army Reserves, spending summers in two-month stints at the Pentagon or teaching at military intelligence schools around the country.
Retirement gave him the time to finally try his hand at plays, a previously uncharted territory for the English professor who had written his dissertation on the works of George Bernard Shaw. "So," Bevan says, "I started writing plays and just never stopped."
Bevan, at 78, shows no signs of slowing down. Not anytime soon, anyway. Most of the time, the plays write themselves, he says.
He's directing "April in Iraq," because of his military experience, but is handing over the reins for the other five pieces in "An Evening of Dean Bevan's Plays" to a group of hand-picked local directors — all of whom volunteered for the unpaid job, he proudly notes.
"I've never written a play to make a point. I've never written a play to a thesis, and this one isn't either," Bevan says of "April in Iraq," which he penned in 2007. "It's not anti-war, it's not anti-Army, it's not anti-women-in-the-Army."
To illustrate his point, Bevan shares a memory of his long-ago commencement ceremony at the Army War College in Carlisle, Penn. He still remembers the speaker that day, who told Bevan and his fellow soldiers, "You don't have to be in a war for five minutes to realize there has to be a better way of doing things."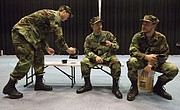 "And this is not an anti-war protester talking," Bevan recalls. "But I think that's one of the things the play is saying — there has to be a better way (of) dealing with our enemies without hurting our friends."
In the meantime, he'll "keep going" with his acting pursuits. Theatre Lawrence is staging "The Last Romance," about finding love in one's twilight years, and "The Music Man," for which Bevan would like to score a part in the show's barbershop quartet, as part of its upcoming season.
And, of course, he's still sending his plays to theaters across the country and English-speaking world, hoping for a bite. A few days after Bevan's Theatre Lawrence productions wrap, he'll journey with his wife of 56 years, Judy, to catch a show of his in Gulf Shores, Ala. Hopefully, they'll hit the beach and enjoy some fresh seafood while they're there.
Two years ago, the couple charted a sailboat around the southern coast of Ireland, an adventure Bevan later chronicled for an article in Sail Magazine — "We were 76 and 75 at the time, but if you're reasonably fit, why can't you do stuff like that?" he asks.
"I don't know how much of it's attitude and how much of it's genetics," Bevan says of his longevity. "I've known a lot of people who'd say at the drop of a hat, 'I'm getting too old for this kind of thing.' I'm not going to say that."
"If I feel too old for something, I'll quit it," he adds, "But I'm not talking about it."