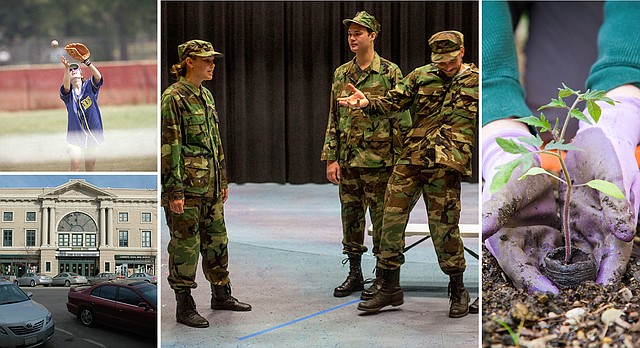 Lots of family-friendly entertainment this weekend in Lawrence, from improv at the Eagles Lodge to movie magic at Liberty Hall.
● ● ●
"An Evening of Dean Bevan's Plays"
7:30 p.m. Friday and Saturday, Theatre Lawrence, 4660 Bauer Farm Drive
The Lawrence theatre veteran is staging six of his short (meaning 10-minute or one-act) plays, with a little help from local guest directors, this weekend at Theatre Lawrence. Bevan, a former English professor, has seen his pieces (he's written 21 in the 15 years or so since retiring from Baker University) staged across the country, from New York City to San Francisco and more than a dozen cities in between.
This weekend's selections include "Cindy," a modern take on "Cinderella," and "April in Iraq," about a young woman who joins the Army Corps of Engineers to help the Iraqi people only to discover a less-rosy reality once overseas.
Tickets cost $10, and can be purchased at the Theatre Lawrence box office, online at www.theatrelawrence.com or by calling 843-7469.
● ● ●
Dinner and a Movie: "A League of Their Own"
7:30 to 11 p.m. Friday, Lawrence Public Library lawn, 707 Vermont St.
There's no crying in baseball, and there's certainly no crying on the Lawrence Public Library lawn when Downtown Lawrence Inc. — with a little help from event sponsors Kansas Athletics — screens "A League of Their Own" in this weekend's installment of Dinner and a Movie. (No judgement if you do end up shedding a few tears, because some of us are bound to get a bit weepy over the 1992 classic's empowering tale of girl power in World War II-era America.)
Local food and drink vendors will be on hand, as well as free popcorn and door prizes. Activities, including live entertainment and face painting for the kids, are scheduled leading up to the screening itself at 9 p.m. Please leave pets and booze at home.
● ● ●
Petal Power at the Percolator
10:30 to 11:30 a.m. Saturday, Lawrence Percolator, 913 Rhode Island St. (look for the yellow building with green awnings in the alley behind the Lawrence Arts Center)
This family-friendly event from the Lawrence Percolator and Lawrence Public Library invites kids to "bring your green thumb and be ready to get your hands dirty!" It's advertised as a "special outdoor story time dedicated to flowers," but we're also betting on a bit of gardening being involved as well.
Register at 843-3833.
● ● ●
Ghostbusters Puzzle Hunt
2 to 3:30 p.m. Saturday, Lawrence Public Library, 707 Vermont St.
In this puzzle hunt hosted by the Lawrence Public Library, ghosts have invaded Lawrence, leaving our fearless "ghostbusters" (that's you) to solve a series of puzzles that will contain the spirits and save the city.
Saturday's puzzle hunt will start on the library lawn and take place throughout the surrounding blocks. All ages are welcome, the library notes, but kids might need some help from their parents.
● ● ●
"Improdge at the Eagles Lodge"
7 p.m. (family friendly) and 9 p.m. (adult) Saturday, Eagles Lodge #309, 1803 W. Sixth St.
Join the funny folks of the Lawrence Improv Guild for an evening of "made-up hilarity, improvised shenanigans and maybe even some feelings, too" at Saturday night's shows.
The 7 p.m. performance will be family-friendly, the guild promises, with the 9 p.m. performance geared more toward adults. Tickets are $6, or $5 for students.
● ● ●
"My Neighbor Totoro"
1 p.m., 4 p.m., 7 p.m. and 9 p.m. Sunday, Liberty Hall, 644 Massachusetts St.
Relive the magic (or experience it for the first time) of Hayao Miyazaki's 1988 classic at Liberty Hall's all-day screenings.
The Oscar-winning filmmaker's animated flick, about a pair of young sisters who form an unlikely friendship with a forest spirit named Totoro in post-war rural Japan, will be screened in its English language version (for the kiddos) at 1 p.m., 4 p.m. and 7 p.m. in Liberty Hall's main theater. The Japanese version with English subtitles will be shown at 9 p.m. in the little theater.
Admission is $8 for adults. Seniors and children under 12 get in for $7.
---