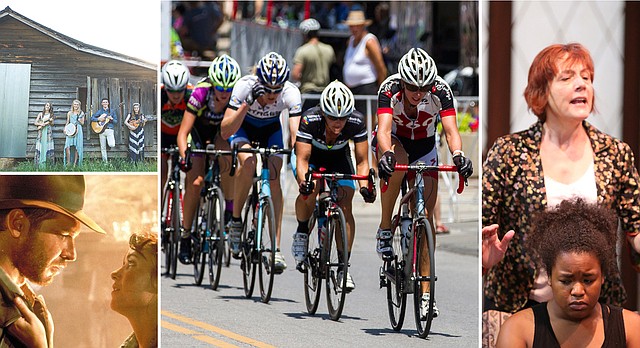 Tour of Lawrence might prove the biggest event in Larryville this weekend (approximately 750 cyclists and an estimated 7,000 spectators can't be wrong), but there's plenty more where that came from — namely classic theatre in the form of "Harvey" at KU's Murphy Hall, wholesome family fun pretty much everywhere, and another celebration of local music at the fifth annual Lawrence Field Day Fest.
● ● ●
'Harvey'
7:30 p.m. Friday and Saturday, 2:30 p.m. Sunday at Stage Too! at Kansas University's Murphy Hall, 1530 Naismith Drive
Kansas Repertory Theatre kicks off its third season Friday with a staging of "Harvey," Mary Chase's beloved 1944 Pulitzer winner about a lovable eccentric and the 6-foot-tall, invisible rabbit who happens to be his best friend.
John Rensenhouse directs RRT's production, which will be staged in rotation with the Victorian thriller "Angel Street," opening July 22, throughout this month at Murphy Hall. Tickets range from $10 to $18, and can be purchased at the KU ticket offices, online at www.kutheatre.com or by calling 864-3982.
● ● ●
Tour of Lawrence
Various locations across Lawrence Friday through Sunday
More than 750 cyclists are slated to roll into town (it's a bike joke) when the eighth annual Tour of Lawrence returns this weekend.
The three-day event kicks off Friday at 6:30 p.m. with street sprints on Vermont Street between Seventh and Ninth streets (a kids' zone will be set up on Eighth Street between Vermont and Kentucky streets from 6:30 to 10 p.m.), followed by a free street party featuring live music from alternative country rockers Split Lip Rayfield.
For more information, including a full roster of events for Saturday and Sunday, visit www.touroflawrence.com.
● ● ●
The Petersen Family Bluegrass, Country and Comedy Band
7 p.m. Friday, Theatre Lawrence, 4660 Bauer Farm Drive
Expect plenty of bluegrass standards, gospel favorites and sibling humor when Branson, Mo.'s award-winning (and highly photogenic) family band The Petersens take the stage Friday at Theatre Lawrence.
Reality TV junkies might recognize the group's banjo player, Ellen Petersen, from her appearance on "American Idol" season 14, for which she placed in the top 48.
Tickets are $14 for kids 14 and under, and $27 for adults. Get yours at www.theatrelawrence.com.
● ● ●
Lawrence Field Day Fest
KJHK 90.7 FM's fifth annual celebration of the latest and greatest music emerging from the Lawrence-Kansas City area and beyond continues (festivities kicked off Thursday) this weekend, with showcases lined up across downtown Lawrence Friday and Saturday.

Venues include the Jackpot Music Hall, which is hosting a Girls Rock matinee show (female musicians, including Lawrence's La Guerre and The Ovaries-eez, seem to be the theme here) starting at 2 p.m. Saturday, and the Replay Lounge, which closes out the fest with a Datura Records showcase at 9 p.m. Saturday. On the roster for Friday: local crowd-pleasers Psychic Heat at the Jackpot, Your Friend at The Bottleneck and Varma Cross at the Replay Lounge.
Check out www.hellohamhawks.com for a complete schedule and ticket information.
● ● ●
'Raiders of the Lost Ark'
12:30, 4, 7:30 and 9 p.m. Sunday, Liberty Hall, 644 Massachusetts St.
Revisit Steven Spielberg's 1981 classic with a series of special screenings at Liberty Hall this weekend. The film, which marks the first installment of the "Indiana Jones" flicks, celebrates its 35th anniversary this summer.
Tickets are $8, or $7 for seniors and children under 12.