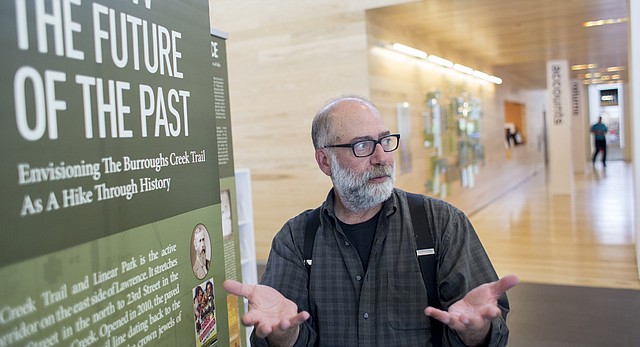 On any given day, the Burroughs Creek Trail functions as a quiet retreat for East Lawrence residents. The 1.7-mile pathway, which stretches from 11th Street in the north to 23rd Street in the south, might host joggers on their morning routes, dog walkers, cyclists or neighbors out for an evening stroll.
It could be "Anywhere USA," says Henry Fortunato, an avid walker and historian who made headlines in 2014 for trekking 500 miles (on foot) across Kansas. But the trail, which was developed along the route of an abandoned rail corridor and opened to visitors in 2010, could also be so much more.

With any luck, Fortunato's latest venture will "transform this walk through Anywhere USA," he says, into "A Hike Through History." The exhibit of the same name, directed by Fortunato and opening Monday at the Lawrence Public Library, documents some of the formative — yet oftentimes forgotten —milestones of Lawrence's past that occurred on the trail or just off it.
"Our history is who we are now, and that's what I think makes Lawrence really unique and special, is that link we have to the beginning," says Kathleen Morgan, director of development and strategic partnerships at the Lawrence Public Library. "I think this sort of project really brings out that special quality of the people who live here in Lawrence."
Nearly two years in the making, "A Hike Through History" is designed to get folks exercising both their bodies and minds, complementing the library's summer reading program fitness-centric theme. A series of bookmarks accompanying each topic offer reading suggestions, for those who'd like to explore further.
Its six panels, which contain text written by local historians and images collected from such repositories as the Kansas State Historical Society and KU's Kenneth Spencer Research Library, are on the move, too, or will be soon. After the exhibition wraps up its run at the library in September, it will travel to other venues across town — including the East Lawrence Recreation Center, Lawrence Memorial Hospital and KU's Kansas Union — throughout this year and into 2017.

"I'm a big walker, and I'm also very captivated by the power of public history — history that's extended to the general public instead of history that's just in the lecture hall," says Fortunato, currently a visiting fellow at the Hall Center for Humanities. "I wanted to combine these two things, history and hiking, and see if there was a way to enhance the experience on walking trails."
The project was developed by Sunflower Republic LLC (Fortunato is its founder) under the auspices of the library and the Watkins Museum of History, with in-kind support from Kansas University's Hall Center for the Humanities. The Kansas Health Foundation, the Freedom's Frontier National Heritage Area and Dolph and Pam Simons, who own Journal-World parent company The World Company, assisted with funding.
"A Hike Through History" covers a lot of ground, connecting William Quantrill (his raiders crossed the trail on their way to Lawrence some 150 years ago) to Beat Generation icon William S. Burroughs, the trail's namesake.
There's quite a bit that happened in between, too.
"It's hard to believe you can find 1.7 miles anywhere else in Kansas, maybe anywhere else in the country, where you can have all these disparate elements that can come together as these really neat narratives," Fortunato says.
The prisoner-of-war camp that once housed approximately 300 German soldiers during World War II (it was located a mere 500 feet from what is now the northern terminus of the trail), for example, or the racial discrimination faced by Langston Hughes as a boy growing up in Lawrence that later inspired a novel and poem, are all chronicled in the exhibition. That particular incident has "stayed with" Fortunato throughout the development of "A Hike Through History," he now recalls.
In the weeks leading up to Aug. 19, 1910, the Lawrence Daily Journal made much ado about a free Children's Day party the newspaper was hosting in East Lawrence's Woodland Park in honor of editor J. Leeford Brady's birthday. When a young Hughes showed up to the celebration anticipating sweet treats and Ferris wheel rides, he and other black kids were turned away at the gate.
The newspaper's reasoning: "The Journal knows the colored children have no desire to attend a social event of this kind and that they will not want to go. This is purely a social affair and of course everyone in town knows what that means."
Hughes captured the anxiety and disappointment of that day 20 years later in his debut novel, "Not Without Laughter," and in the poem "Merry-Go-Round," which poignantly asked, "Where is the Jim Crow section/On this merry-go-round(?)"
"To think that that incident was the kernel of the idea that produced this poem that took place five blocks from the Burroughs Creek Trail is just astonishing," Fortunato says.
As a walker, Fortunato is always looking ahead — keeping an eye out for obstacles, searching for alternative routes if need be, admiring the scenery. Now, he's looking ahead to the future of "A Hike Through History." The ultimate goal, he says, is to create a permanent installation along the Burroughs Creek Trail. To make it happen, he's going to need a lot of community support.
The exhibit, or at least the concept behind it, has already been a big hit with library patrons, several dozens of whom joined Fortunato on a walking tour of the Burroughs Creek Trail in mid-June following a presentation at the library a few days before. Many chimed in with ideas for the exhibition — more recent vignettes from Lawrence's history that ought to be included someday.
In the meantime, library visitors can share their suggestions on sheets of paper provided near the exhibit site. Fortunato hopes they will.
"That's really the key thing to me," he says. "I would love to see engagement by people who have stories that they think need to be told."