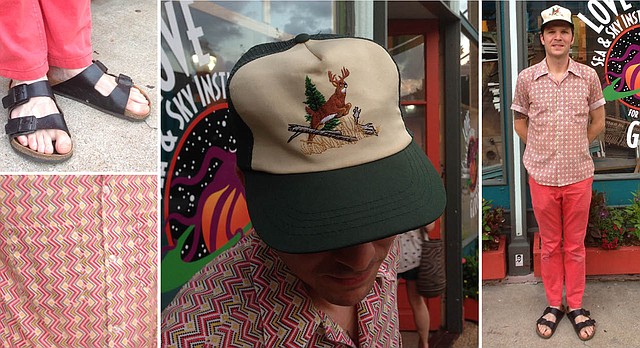 Name: Aaron Marable
Age: 38
Relationship status: Married
Hometown: Robinson
Time in Lawrence: 15 years
Occupation: Record store jockey — indentured servant, actually.
Dream job: The position that Alan Lomax had for the Smithsonian. He was a field recorder for blues and folk music in the South. He took a tape recorder in his trunk. It's his recordings that are responsible for the folk and blues revival of the '50s and '60s.
Describe your style: A San Francisco beatnik writer wandering around with Montana cowboys.
Fashion trends you love: Trends that never go out of style. Trends that aren't trends — just style.
Fashion trends you hate: There's no room for hate these days.
Fashion influences: Old snapshots of all of our parents, and Woody Allen movies.
Favorite thing about Lawrence: The community. The people. That room (Love Garden Sounds) is full of incredible people. And the community looks out for each other.
Least favorite thing about Lawrence: The summer heat.
Is there anyone people say you look like? No. But I do look a lot like my uncle Dennis.
Tell us a secret: A gentleman never tells.
More like this story on Lawrence.com