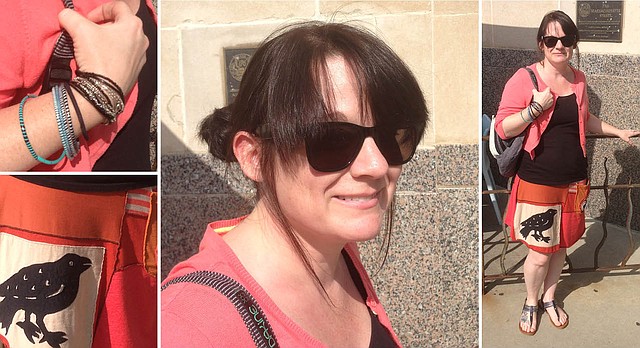 Name: Shanon Fouquet
Age: 37
Relationship status: Married
Occupation: Homemaker and artist
Dream job: I'm doing it.
Hometown: Olathe
Time in Lawrence: We visit here at least once a month.
Describe your style: I usually try to find something unique — locally made, by local artists or craftsmen. Colorful, a little eccentric, and fun.
Fashion trends you love: Right now, boho stuff. Bohemian, earthy, hippie stuff.
Fashion trends you hate: Sagging pants. That's the only one. I'm pretty open-minded except for that.
Fashion influences: I like to people-watch and just see the different trends online and people downtown. Walking Mass. Street, you can see all kinds of styles.
Favorite thing about Lawrence: The diversity. Different people, different kinds of shops, uniqueness.
Least favorite thing about Lawrence: Paying for parking, if I have to say something.
Is there anyone people say you look like? The only person — I don't like to say it — is (one of the hosts) on "The View."
Tell us a secret: I secretly like to think I'm 23.
More like this story on Lawrence.com