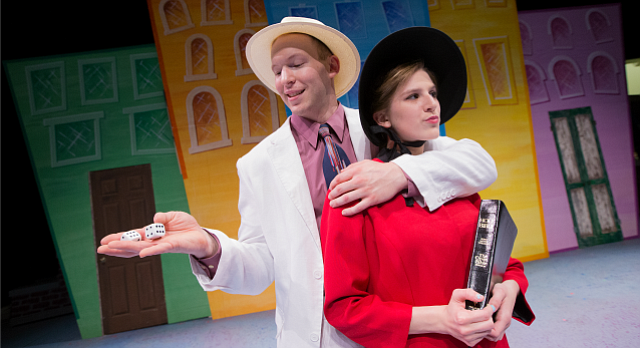 A slice of 1940s New York City — complete with brassy dames, smooth-talking con men, dodgy alleyways and legally dicey dice games — arrives in Kansas this week.
In Theatre Lawrence's production of "Guys and Dolls," opening Friday, the city is almost a supporting character to the big personalities who inhabit it, says director Jason Smith.
"You're going to see these really bright sets with bright purples and yellows and oranges popping out at you. You'll see that in the costumes, too — really wild suits and ties and outfits for the ladies," says Smith, who makes his Theatre Lawrence directorial debut on this season's closer. "We wanted to take New York and turn it on its ear a bit, so you could see the brightness and vibrancy of New York but also see some of the dark seediness of the area as well, where the con men and gamblers would dwell when they're looking for the next craps game."
Based on the fictionalized Broadway of newspaperman and author Damon Runyon's short stories, "Guys and Dolls" has often been called the "perfect musical comedy" since its premiere in 1950.
The show follows the misadventures of Nathan Detroit (played here by John Robison) as the small-time grifter attempts to organize the biggest craps game in town while avoiding the authorities and his longtime fiance's (the saucy Miss Adelaide, played by Secily Krumins) gripes about their long-overdue engagement.
Also in the mix: Nathan's buddy Sky Masterson (Christoph Cording), a fellow gambler pursuing a straight-laced young missionary named Sarah Brown (Noelle Olson). His intentions aren't entirely wholesome, at least not at first. The romance is all part of a bet waged by Nathan, in which Sky is challenged to take a "doll" of his friend's choosing on a date to Havana. That's Havana, Cuba — and one tall order.
Even younger audiences should be able to recognize that narrative trope — the "bet" setup goes back "all the way to Shakespearean times," Smith says, but is also used plenty in more contemporary media. It's a theme woven through 1990s teen flicks such as "She's All That" and "10 Things I Hate About You," the latter of which is basically a modern twist on Shakespeare's "The Taming of the Shrew," among countless other works.
If you go
"Guys and Dolls" opens Friday at 7:30 p.m. at Theatre Lawrence, 4660 Bauer Farm Drive. Tickets are $27 for adults and $25 for students, and can be purchased at theatrelawrence.com. The show runs Thursdays, Fridays, Saturdays and Sundays through June 26.
At the end of "Guys and Dolls," he says, we're left pondering what love is, what luck is, and the blurred lines between "what is real and what is fake."
"The relationship between Nathan and Adelaide is questioned a lot. She's been engaged for 14 years and she's wanting to get married and he's been putting it off for as long as he possibly can," Smith says. "Are we really lucky to have this love, and what happens when we take it for granted?"
"And on the other side of the coin, there's the relationship between Sky and Sarah. Nathan bets him that he can't take Sarah Brown to Havana. He does, and he finds more to it than just a bet," Smith adds. "He finds an actual person that he starts caring about, and he finds the humanity in something where there was very little humanity before."
"Guys and Dolls" with Adelaide's dreams of domesticity and the gamblers' dreams of striking it rich, is also partly a reflection on the American Dream. It's a theme that's timelier than ever, says Smith.
In today's political landscape, issues such as the wage gap and income inequality are talked-about topics. So too are the personal finances of the candidates — some voters are turned off by Donald Trump's declaration that his sizable fortune means he "can't be bought," while others find it refreshing. Bernie Sanders has called income inequality "the greatest moral issue of our time," but, as TIME pointed out earlier this year, is himself a "de facto millionaire."
The American Dream represents different things to different people, but "security" is at its core, Smith says, whether that be job security or something "as simple as family security."
"How do you find those things in a very volatile place in America right now, especially politically?" he asks.
But enough of that stuff. "Guys and Dolls" is bold, bright and bursting at the seams with "witty jokes," splashy choreography and a brassy score with stand-out songs ("Luck Be a Lady" and "A Bushel and a Peck" among them), Smith says. It's been called "the perfect musical comedy," and he's not one to dispute that.
Still, he says, "it's not just about silly, kitschy humor."
"There really is a heart to this show," Smith says. "There are those moments where you can put the humor aside for a bit and really see the humanity of the characters. I think that's what makes this show so successful."