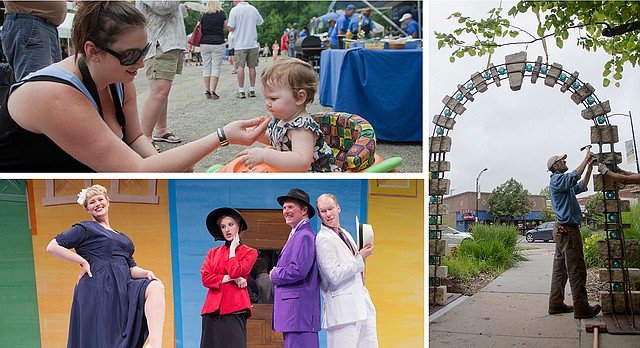 Get your cultural fix this weekend in Lawrence with the opening of the Outdoor Downtown Sculpture Exhibition, Theatre Lawrence's "Guys and Dolls" and the Just Food benefit Blues and Grass by the River. And, because summer is here and because barbecue is always a good idea, all-you-can-eat deliciousness at the Eagles Lodge's annual Fire in the Hole Cookoff.
● ● ●
Outdoor Downtown Sculpture Exhibition opening reception and walking tour
5:30 p.m. Friday, Lawrence Parks and Recreation Department administrative office, 1141 Massachusetts St.
This Friday marks the official unveiling of the city's 28th annual Outdoor Downtown Sculpture Exhibition, with an opening reception and walking tour of the pieces — there are eight scattered throughout downtown, plus one outlier installed at Theatre Lawrence — slated for 5:30 p.m. at the Lawrence Parks and Recreation Department's administrative offices in South Park.
(We're using the word "official" here because you may have already seen some of the sculptures out and about over the last few weeks.) This year's artists hail mostly from Lawrence and the Kansas City area. In their pieces, you'll find materials varying from reclaimed steel and glass to driftwood, medicinal natural dyes and Kansas limestone.
● ● ●
"Guys and Dolls"
7:30 p.m. Friday and Saturday, 2:30 p.m. Sunday, Theatre Lawrence, 4660 Bauer Farm Drive
The classic musical comedy arrives at Theatre Lawrence this weekend, bringing with it all the splashy dance numbers, catchy tunes and period-accurate slang you'd expect from the Tony-winning tale of smooth-talking hustlers and the women who love them in 1940s New York City.
Jason Smith directs the Theatre Lawrence production, with music direction by Mary Baker and choreography by Barb Wasson.
Tickets range from $24.99 to $26.99, and can be purchased at www.theatrelawrence.com, the Theatre Lawrence box office or by calling 843-7469.
● ● ●
Fire in the Hole BBQ Cookoff
12:30 to 3 p.m. Saturday, Eagles Lodge #309, 1803 W. Sixth St.
"Music, food and friends for all" is the tagline of sorts for the local Fraternal Order of the Eagles' sixth annual cooking competition, where $10 buys you all-you-can-eat barbecue and loads of fun. Craving a sweet treat to finish off your meat? There will also be a bake sale.
Proceeds benefit Toys for Tots and the Lawrence Police Department's Blue Santa program. No RSVP is required; pay at the door.
● ● ●
Lawrence Community Fest Presents: Blues and Grass by the River
1 to 11 p.m. Saturday, Burcham Park, 200 Indiana St.
This aptly named benefit for Just Food is a celebration of bluegrass music (naturally) and family-friendly fun.
Enjoy six musical acts (the roster includes the Lawrence-based Sugar Britches as well as Colorado's Oakhurst and Head for the Hills, among others) throughout the day (lawn chairs and other comforts are encouraged) as well as bounce houses, face painting, cotton candy and Sno Cones for the kiddos. Adults can also load up on cold beer and munchies from nearby food trucks and vendors. Dogs are welcome, with a "place for your pup to get a drink and a treat" provided by festival organizers.
Admission is a suggested donation of two canned food items at the front gate, though cash donations are also accepted. All donations benefit Just Food.

---