As Lee Meisel and his wife, K, celebrate their 10th wedding anniversary next week, he says now they'll have "an even better excuse to celebrate."
Their business, Leeway Franks at 935 Iowa St., was voted Best New Restaurant in 2016's Best of Lawrence — a victory he said was very unexpected.
"It's an amazing feeling … We just live in the best city in the world for this kind of thing," Meisel said. "We've said it many times that we couldn't do what we do if we weren't in Lawrence."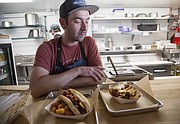 He noted local farmers as well as the community's involvement in local, family-run businesses as factors that have made Leeway Franks possible.
"Everything that we do is centered right here, so obviously, we're very, very thrilled," he said. "We're coming up on a year in July and this makes us feel like we're on the right track."
Winners were announced Thursday afternoon at the annual Winners Bash, held at Abe & Jake's Landing, 8 E. Sixth St.
This year's Best of Lawrence received a record-breaking 424,597 votes in 165 categories. That number includes 28,597 write-ins. And 495 businesses, hitting letters of the alphabet from Abe & Jake's to Zen Zero, placed first, second and third.
The Meisels have reason to be optimistic: last year's best new restaurant, Ladybird Diner, this year won first place in the categories of Best Diner and Best Place to Get Pie, along with being runner-up in several other categories.
The winners are now online at bestoflawrence.com, with their stories available here. The full-color, 112-page magazine — complete with insider tips — will run with Sunday's Journal-World.