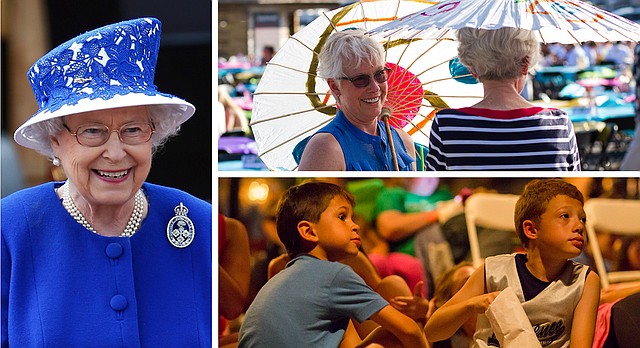 The hotly anticipated Free State Festival arrives this weekend (yay!) but won't kick off officially until Sunday (sad face). Fortunately, we've got a few ideas here to keep you entertained in the meantime, including but not limited to Shakespeare, dinner and a movie, and a birthday celebration fit for a queen.
(We've got you covered on the Free State Festival stuff, too. Check out our guide to festival events and our interview with festival headliner/comedian Maria Bamford from today's Journal-World.)
● ● ●
"Much Ado About Nothing"
7:30 p.m. Friday and Saturday, 3 p.m. Sunday, Lawrence Arts Center, 940 New Hampshire St.
The young thespians of the Lawrence Arts Center's Summer Youth Theatre program are staging their second production of the season, Shakespeare's "Much Ado About Nothing," through Sunday at the Arts Center.
Directed by Elizabeth Sullivan, the Bard's witty take on relationships, gender roles and deception is given a modern twist (it's set in Las Vegas) in the Arts Center's version.

Tickets are $10 for adults and $7.50 for students, and can be purchased at www.lawrenceartscenter.org or by calling 843-2787.
● ● ●
Dinner and a Movie: "Ferris Bueller's Day Off"
7:30 p.m. Friday, Lawrence Public Library lawn, 707 Vermont St.
Bring your chairs, blankets and buddies to catch the beloved '80s classic (it's celebrating its 30th anniversary this month) on the Lawrence Public Library lawn this Friday. The screening marks the return of the annual Dinner and a Movie summer series, presented by the library and Downtown Lawrence Inc.
Bring your own picnic if you like, or load up on munchies from the several downtown vendors and food trucks onsite. Downtown Lawrence Inc. will also have free popcorn and door prizes on hand starting at 7:30 p.m., followed by the movie at 9 p.m. Closed captioning will be provided for the hearing-impaired.
Kids are welcome, but please leave pets at home. For more information, visit www.lawrence.lib.ks.us.
● ● ●
The Queen's Birthday Bash at Brits
10 a.m. to 6 p.m. Saturday, Brits, 929 Massachusetts St.
The downtown purveyors of all things British are celebrating Queen Elizabeth's 90th birthday in style, with giveaways, sales, samples and more Saturday on Brits' back patio.
Overland Park's Clock Tower Bakery will also be on hand from 11:30 a.m. to 1:30 p.m. with sausage rolls, pasties (that would be the traditional English baked pastry, in this case), steak bakes and other treats available for purchase.
● ● ●
What Floats Your Boat
7 to 11 p.m. Saturday, Clinton Lake Marina, 1329 E. 800 Road
Van Go Inc.'s 13th annual fundraiser kicks off a little later in the evening this year in an effort to avoid the heat, with "cool jazz" by Blueprint, dinner by Ingredient and Kansas's City's McGonigle's Market, and cold ones (plus wine for sale) from 7 to 8 p.m.
The main event — the live auction of pieces created by teens and young adults in Van Go's arts-based job-training programs — will be held from 8 to 9 p.m., followed by dancing under the stars with DJ Johnny Quest from 9 to 11 p.m.
Tickets range from $87.50 to $700, for a table of eight. Get yours — and take a look at some of the items up for bid — at www.van-go.org. All proceeds benefit Van Go.
---