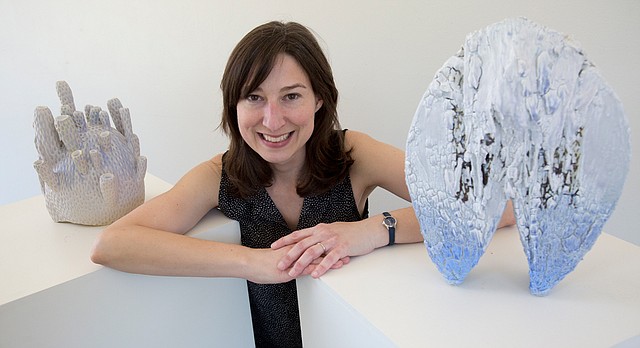 Christy Wittmer isn't interested in telling stories with her art, which at the moment is scattered in unfinished pieces — a pair of nesting Styrofoam packing inserts here, a giant "felt tomato" there — around her small but efficient Lawrence Arts Center studio.
Instead, she'd like us to simply "have an experience" when "Clean Spaces," the exhibition capping off her year-long stint as ceramics artist-in-residence at the Lawrence Arts Center, opens Friday in the building's main gallery.
In her workspace are shelves lined with repurposed Greek yogurt containers, dry-cleaning bags billowing against the walls and a handful of mid-sized ceramic pieces whose future, with about one week to go before opening night, is yet to be determined. It is an artist's studio that functions in many ways like a laboratory where Wittmer, who once briefly mixed compounds for a living as a glaze chemist in her native Ohio, enjoys experimenting with colors, textures and materials.
"I like to push myself with each new body of work, to do something somewhat different than before, just so I'm always learning and staying fresh," she says of "Clean Spaces," which has evolved out of Wittmer's long-standing experimental process. "I don't want to get too comfortable."
She doesn't know exactly what "Clean Spaces" (it's a reference to Wittmer's signature sleek aesthetic) will look like, but she does know it will likely entail her habit of stacking or layering objects in an oftentimes-precarious fashion. It's meant to incite a physical reaction in viewers, prompting them to take a closer look over the "delicately balanced terrains" and subtle details created in her mixed-media sculptures. There's a "push and pull" to it, Wittmer told the Journal-World last year, "of wanting to get close to a piece but not wanting to knock it over."
"I feel like I'm just a physical person," Wittmer admits. "And so I feel like my experience of living in my body is important."
As a kid, she'd spend hours digging around in the dirt and pulling apart plants in her backyard. Later, she'd work as a massage therapist between earning her bachelor's degree in painting and sculpture from Miami University in Ohio and completing her graduate studies in ceramics at the University of Cincinnati.
Wittmer still relishes the opportunity to work with her hands every day. She usually begins her creative process by experimenting with materials before moving on to what she calls "accidental objects," which she'll curate into a sculpture. This time around, it's been slightly more intentional.
"It's hard to know until you get in the space how everything will work together, because I think it's a lot about relationships from one piece to the other," she says of "Clean Spaces."
For the exhibition, which aligns with the end of her residency later this summer, she's been playing with the balance of raw and refined materials — as in the pairing of unfinished wood and the thin, delicate surfaces of Wittmer's ceramic pieces.
Some art, she says, is a "representation of a thing." The bodily experience she strives to create with each piece — and not the piece itself — is "the thing," she explains.
"With this (exhibition), I feel like the work or my way of working is somewhat playful in the experience, too, as they're exploring the show," Wittmer says. "I'm hoping they find relationships between the pieces. They might find materials that are similar from one piece to another, or a particular shape. And so, as they go around, it begins to come together as a whole experience."
In her time at the Arts Center, Wittmer has focused mostly on the form in her sculptures, without much emphasis on surface, she says. She'd like to take hold of the new ideas that have emerged out of her body of work created here and take them to China, where she's headed — on a Fulbright grant — after her Lawrence residency ends.
During her 10-month stay in Jingdezhen, China's "Porcelain Capital," Wittmer will document innovations in traditional and contemporary ceramic sculpture, ideally learning techniques from local artisans that will inform a new body of work.
After that, she's not sure — hopefully making art and teaching somewhere — but remains excited and open to "whatever opportunities may present themselves," whether that's here in the states or in China.
"I'm really looking forward to exploring the surface," Wittmer says of her upcoming trip to the Porcelain Capital.
"At least for now, that's what I'm looking forward to," she adds. "Things change and evolve." In life, as in art.