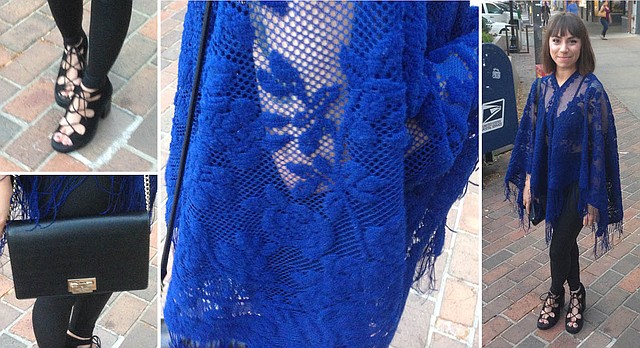 Name: Vicky Díaz-Camacho
Age: 28
Relationship status: Married
Hometown: El Paso, Texas
Time in Lawrence: 3 years in July.
Occupation: Copy editor
Dream job: Probably an editor for something art- and culture-related. I used to dream of The New Yorker, but I met some BuzzFeed people and they seemed like fun, so that would be cool, too.
What were you doing when scouted? Just walking down Mass., possibly going to watch a movie at Liberty Hall.
Describe your style: Vintage, with a lot of inspiration from contemporary art and French cinema.
Fashion trends you love: The one-tone minimalist ensembles. I think those are fun. Crisp white shirts, cigarette pants. It's business, but casual at the same time.
Fashion trends you hate: Bedazzled jeans.
Fashion influences: A lot of films. Solange Knowles; I love her style. Also any Mexican or Puerto Rican traditional wear — the colors and silhouettes.
Favorite thing about Lawrence? I love the vibe of the city. It's hyperlocal in terms of businesses. There's great food, people, art... I could list so much that I love.
Least favorite thing about Lawrence? I wish it was bigger. There's so much to do here that you wish there were more of it.
Tattoos or piercings? One piercing, and four tattoos: a triangle on my right shoulder, a quill because I'm a writer and an editor, a filigree on my other arm and text on my ribs.
What's your spirit animal? Let's say cat. I have a cat. I love all animals, but let's go with that.
Whom do people say you look like? When I was younger, I was told I looked like Jennifer Love Hewitt. That's all I can think of. Maybe I'm just too weird and don't look like anyone.
Tell us a secret: As much as I try to be a vegetarian, I love steak.
More like this story on Lawrence.com