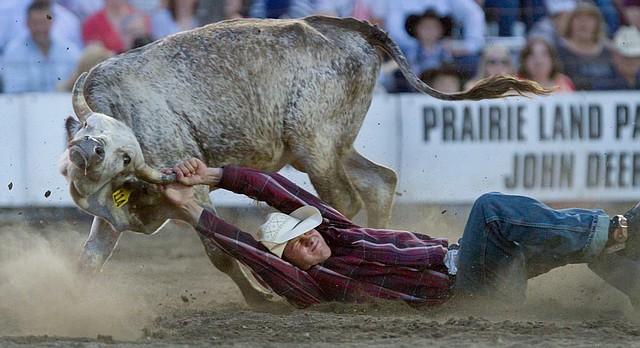 The secret to good photography is comfortable shoes. I left my cowboy boots in my car and donned soft leather hikers to photograph the Flint Hills Rodeo earlier this June.
I wasn't going to fit in with the rodeo fans, but they weren't going to get good photos. Their pointy boots were fine, but their point-and-shoot cameras weren't going to get the job done.
Photo Gallery
Flint Hills Rodeo
Behind the Lens : Images from the Flint Hills Rodeo, June 3, 2016.
A night rodeo is like a night football game. Once the sun sets on the lone prairie, lighting at most outdoor arenas is lousy. Bronco-busting requires fast shutter-speeds to stop the action. A minimum shutter-speed of 1/500th of a second and a lens with a large, or "fast" aperture (e.g. f2.8) to let in as much light as possible is a necessity. You also need a telephoto lens to zoom in. These three requirements are not a strength of point-and-shoot cameras. And no, your camera flash won't save you when you're more than 50 feet away.
But with appropriate equipment, comfortable shoes and the ability to eat some dust, you're ready to shoot. Try these tips at the Franklin County Rodeo in Ottawa, July 14-15, or at Kansas' Largest Night Rodeo in Pretty Prairie, July 20-23.
— Journal-World Chief Photographer Mike Yoder can be reached at 832-7141. Follow him on Twitter at @mikeyoderljw.
---