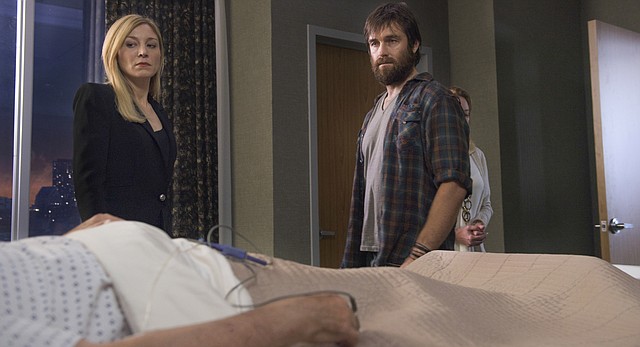 Corinne Brinkerhoff has come a long way from Schwegler Elementary, where the Emmy-nominated producer and screenwriter once delivered a two-and-a-half-hour book report on "all 52" novels in the beloved "Baby-Sitters Club" series.
She's since built a career out of her lifelong love for storytelling, following that ill-fated fourth-grade literary treatise with a slew of successful, similarly ambitious Hollywood gigs, among them "Boston Legal," "Jane the Virgin," and perhaps most notably, "The Good Wife," for which she received a 2011 Emmy nomination. The Lawrence native's latest project, the anthology series "American Gothic," which premiered Wednesday on CBS, follows a WASP-y Boston clan reeling in the wake of their patriarch's death and the shocking discovery that he (and possibly others in the family) may have been linked to a series of grisly unsolved murders.
Brinkerhoff (Lawrence High School's class of 1998) recently chatted with her hometown newspaper about the new show, American's crime obsession and the '90s cult classic that sparked her Hollywood dreams as a book-loving teen in the Sunflower State.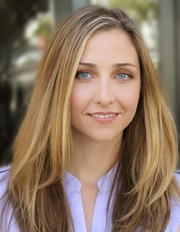 I wanted to talk about the inspiration for "American Gothic," because I'd read somewhere that the idea stemmed from a real-life Kansas case.
It's not inspired by any one case and I want to make that clear, but one of the people that I read about a lot was BTK, because he had been such a family man and because it was such a shock to his family. I read a lot about the family members of suspected or convicted serial killers, and what their lives were like before and after. And because I had grown up in Kansas, I was familiar with at least one of those stories. (I did) a lot of research on various cases about how families grappled with this and the process of coming to terms with this kind of suspicion or revelation. But as we dove into the story, it was really much more of a murder mystery, so it's less clear who in the family, if anyone, is involved, or what exactly happened. And that became the fun of it — cracking a murder mystery rather than knowing from the jump who's guilty, and then just exploring the consequences.
Did you follow the BTK case or similar stories when you were growing up? Was that a fascination of yours as a kid?
No, I would say I tried to avoid that kind of thing (laughs). One thing that's key for the show is that while we wanted to do research into real-life cases so that we could have an authentic framework for how people might behave in these circumstances. What we also found was key was to make our characters original creations and give them a sense of humor in these circumstances, and that's become a key part of the tone in this show — that it's not relentlessly grim and serious and heavy. I think, at least in my own life, that I often react to difficult circumstances with humor, because it's just a coping mechanism that works for me. And we've found that in the show as well. But it's more enjoyable to watch when it's not just darkness throughout.
Were you exposed to a lot of film and TV growing up? What were your favorites?
I was more of a very voracious reader. I was very, very invested in reading books to the point that I once got grounded — I think it was about third grade — from reading because I was not doing anything else. I wouldn't go outside and play. I wouldn't eat dinner. I wouldn't practice piano. I wouldn't sleep. I would get too invested in a book. So I got grounded for one week and was not allowed to read.
In fourth grade at Schwegler Elementary, we had to do these book reports. I could not choose a single book, so I did the entire "Baby-Sitters Club" series and read all 52 books and did an endlessly boring report. My dad has it videotaped. It's just two and a half hours of, "In number 46, Claudia finds out…" But that was sort of my state of mind at that point. I could not read enough, and I always loved characters and stories. Once I got a little older, that morphed into an interest in television. I remember "My So-Called Life" being a very formative piece of television. I was very close to the main actor's (Claire Danes) age, and I just felt kinship with her. It was very inspiring and one of the reasons I wanted to go into the business, was "My So-Called Life."
Some of the shows you got your start on, like "Boston Legal" and later on, "The Good Wife," must have resulted in you becoming pretty adept at legalese. Were you working with consultants to ensure accuracy? What was the process like?
Oh, absolutely. You do start to pick up the vernacular and the basics just by necessity. We always had lawyers on staff — so, writers who were also lawyers — and then we'd also have a legal team of consultants whose sole job was to tell us how egregiously unrealistic everything we were doing was. And then we would just make a calculation about whether it was worth it for story reasons to claim creative license and move forward or whether we would make adjustments to make it feel more accurate and realistic. That was a calculation with every episode. One of my best friends, Megan Winter, who I actually went to school with in Lawrence, is a lawyer, so I'd occasionally call her. Still do, when we get into legal questions on the show.
I read somewhere that you really prefer to set your shows in places where you've spent a lot of time, like Boston, where you attended grad school. How closely does the Boston of "American Gothic" mirror the real-life city of your experience?
Well, not closely enough, because we didn't get to shoot there. We did shoot in Toronto, which doubles nicely for it, and we did shoot a few days of the pilot in Boston. It was two things — just having the familiarity with the place does make writing easier. It's also a very interesting, vibrant city steeped in history, and quite a bloody history — the Boston Strangler, for example. I wanted it to have this East Coast patrician feel without it being too stifling, and still have some vitality and some life. And Boston has all of that. It has the "Good Will Hunting" version of Boston that we know — the more blue-collar version of Boston — and the real blue blood, Kennedy sort of version, and because of the universities and all the college students, it's got a real energy that's specific and interesting. And also, having grown up in a college town, I like other college towns. There's a heartbeat to it that I love. And lastly, when I was last living there, they were in the middle of the Big Dig, which was a massive construction project that I used as part of this family's backstory — how they launched from sort of a blue-collar construction family into the 1 percent, because they secure a bid in the Big Dig, which is worth millions of dollars and sort of rockets them into the 1 percent and changes their fortune completely, and we get to explore what they might do to protect that new status.
"American Gothic" has arrived in the middle of this sort of crime craze that's taken over TV. Are we experiencing a crime TV renaissance? And if so, why is the public so obsessed with these stories?
I think we've always been obsessed with crime, but I think the way the stories are being provided to the public is changing. I think that "Serial," for example, was revolutionary. I got very caught up in "Serial," very caught up in "Making a Murder." I watched "The Staircase." I watched "Capturing the Friedmans." In all of those cases, there are stories of regular, seemingly everyday people who may or may not be involved in horrific crimes. And I think there's something inherently compelling about wondering if the people you think you know well — and are fully functioning, seemingly normal members of society — might have the darkest possible secret. For me, with this in particular, I thought, "What would it take for me think that my dad committed a murder?" I don't think there's anything short of videotaped evidence, and that's part of the exploration of this family — coming to grips with what may or may not have happened, and who knew what and who was complicit in what, and the power of denial.
We were talking earlier about how you like to write stories set in places you're familiar with. Have you ever thought about doing a Kansas-based TV show?
I've thought about it a lot. I would love that. I wish that Kansas had a better tax incentive for filmmakers, because I think it would be a fantastic place to set more TV shows and to shoot more TV shows. Both the CW show and the CBS show are shot in Canada because nowhere else can compete financially, which is a shame, because you'd like to keep that here. The irony, also, is that we're shooting "American Gothic" in Canada. But in terms of a setting regardless of where it's shot, absolutely, I've thought about that a lot with Lawrence. The history of Lawrence and the fact that it's a city that has really sort of been this bastion of progressive thought in an otherwise not-so-progressive state — I love Lawrence for that, and it's so close to my heart. It's as a fundamental part of my identity, being from Lawrence. I would love to find a way to use that as a show and set a show in Lawrence. That'd be dreamy.
I also think about college basketball and think that that would be an interesting world for a show, particularly a team so steeped in history the way the Jayhawks are. I love the Jayhawks. And I love Bill Self.
What do you miss most about Lawrence?
Oh, I miss so much about Lawrence. I don't know where to start. It's just got such a legacy of progressive thought and progressive politics, especially compared to other parts of Kansas. It's such a culturally rich, fun town.
It's one of my favorite places in the world, and it's hard to even summarize how much I love that town. I'm very, very happy and proud to be from Lawrence. Between the Jayhawks and the music scene, there's a million things to love about Lawrence. But I think, with it being a college town, it's always an interesting place to be. And the traffic's not anywhere near as bad as LA. There's a simplicity. Walking downtown with my parents, they know every third person. I miss that.
What's next for you and the show?
We're not necessarily planning a second season with this family. It's very much TBD, but this season was always designed to be a complete story where you get an answer by the end. It's a whodunit, so you get an answer by the end. We won't leave people hanging. We've pitched it as a seasonal anthology, so every season is a different family in a different part of the country, but within the mystery genre. So, we'll see what the future holds in terms of that.
More like this story on Lawrence.com