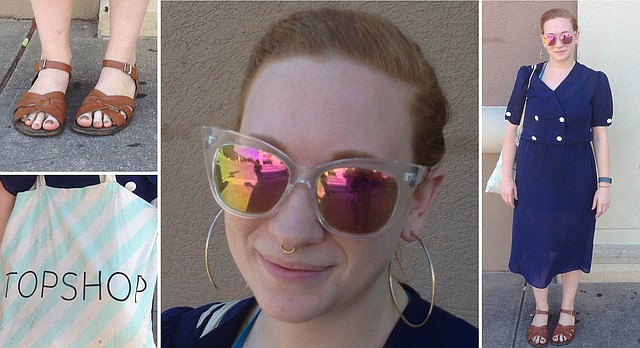 Age: 25
Relationship status: In a domestic partnership.
Time in Lawrence: Two years.
Occupation: Teaching assistant and Terrebonne employee
Dream job: English professor. Hopefully in 3 years that will be happening.
What were you doing when scouted? Going to deposit a check at the bank.
Describe your style: 1920s, 1970s jive, I guess? I don't know; I change a lot.
Fashion trends you love: High-waisted anything, facial piercings, velvet.
Fashion trends you hate: Sparkly leggings, and leggings as pants. And wearing athletic wear only.
Fashion influences: Beyoncé. She wears a lot of great bodysuits. Mia Farrow and Anjelica Huston, too.
Favorite thing about Lawrence: Probably the music scene, and, honestly, Terrebonne. I love the people that come in there.
Least favorite thing about Lawrence: Undergraduate students.
What's your spirit animal? A raccoon. They're nocturnal, cute little burglars, and they love food.
Who do people say you look like? Someone said I looked like the Olson twins one time, and I laughed at them. It's not true.
Tell us a secret: I think my Harry Potter house would be Ravenclaw, but people tell me it would be Slytherin. I don't know which is worse.
More like this story on Lawrence.com