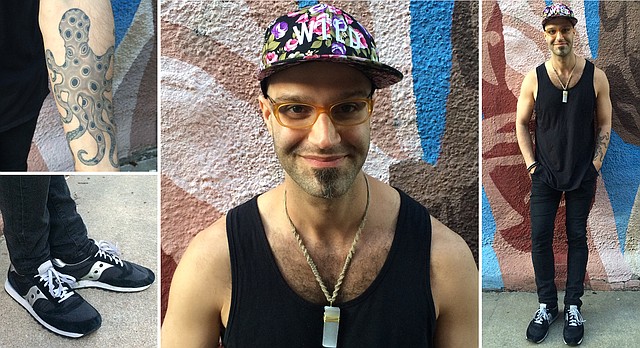 Name: Chris Kuffner
Age: 35
Relationship status: Married, five years
Hometown: Brooklyn, N.Y.
Time in Lawrence: Just today.
Occupation: Musician — I play bass in A Great Big World.
Dream job: My current job.
What were you doing when scouted? Walking to go get some dinner before we get ready to play our show.
Describe your style: I'm a borderline Buddhist hippie with an urban flair.
Fashion trends you love: I like bright colors, I like color accents, I like tight jeans, I guess I like dark colors, as well; I like long-line shirts; I like for shoes and hats to be crazy.
Fashion trends you hate: None, really
Fashion influences: Rock 'n' roll.
What are your favorite and least favorite things about Lawrence? So far I have no bad things, I've just had great coffee (at The Bourgeois Pig) and seen what looks like a really sweet town full of beautiful people.
Tattoos or piercings: An octopus on left arm.
What's your spirit animal? Jimi Hendrix — I don't think I have to explain.
Whom do people say you look like? I get David Cross a lot, which is kind of annoying. I get it less now that I don't have a mustache.
Tell us a secret: I guess this isn't really a secret, but the whole entire universe is a hologram.
More like this story on Lawrence.com