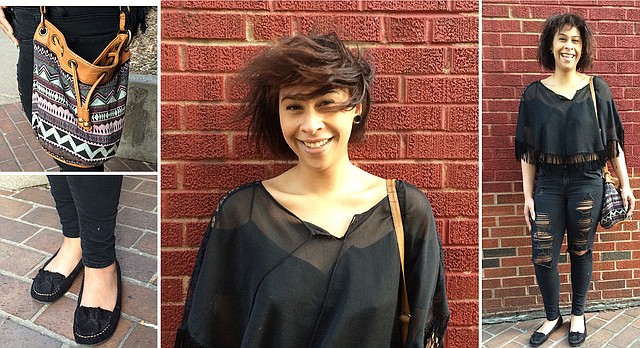 Name: Laramie Barnes
Age: 24
Relationship status: Single
Hometown: Lawrence
Time in Lawrence: Whole life
Occupation: Works at Papa Keno's and door girl at Granada
Dream job: Fashion designer
What were you doing when scouted? Just went and got dinner with (friend Danon Taylor) for watching her dog for the past week.
Describe your style: It's pretty random; I get most of my clothes from thrift stores. So thrifty, darker, magic; I probably take a little bit from Stevie (Nicks) from Fleetwood Mac.
Fashion trends you love: I guess I like the stuff from the 90s that's coming back. I like the crop tops, the fringe. I usually stick to seemingly 90's and darker style, though.
Fashion trends you hate: I hate the fact that we live in Lawrence, that a lot of the students seem to dress the same. I see guys in groups all walking in plaid shorts and khakis and it's like, do you all realize that you look the same? People that seem like they look at what everyone else is wearing to get dressed — problems.
Fashion influences: I like Rihanna; I've always been really big into fashion. People tell me that I follow the beat of my own drum a lot.
What are your favorite and least favorite things about Lawrence? My favorite things are almost everything — but the fact that I've lived here so long makes me want to travel and get out of it. The fact that it's a small town and I see so many people I know everywhere — but it's cozy.
Tattoos or piercings: Of course I went to the dentist today and they made me take my snakebites out. Snakebites, septum, tongue, gauges in ears. Tattoo on left arm.
What's your spirit animal? Some sort of feline, like a black cat because we're both small, stealthy and mysterious.
Whom do people say you look like? People tell me that I look like Beyonce, but I scoff at them. Mary Jane from "How High," that actress.
Tell us a secret: I can lick my elbow; my secret menu (at Papa Keno's) is very legit.
More like this story on Lawrence.com